That's Jaws Dropping! Watch 'Shark Whisperer' Model Go Swimming Unprotected With Man-Eating Great Whites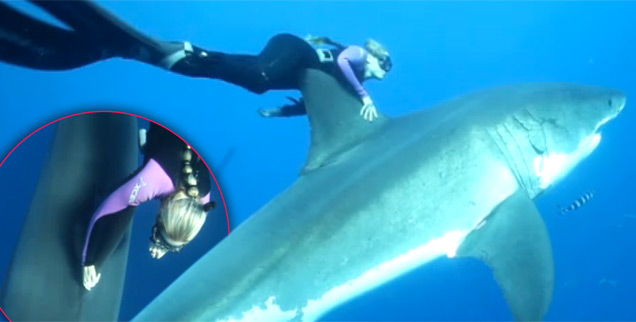 Article continues below advertisement
Speaking to Good Morning America Monday the blonde explained her love affair with the potentially deadly creatures, saying, "I understand that it is dangerous. It is a wild animal."
But she says the highly intelligent predators are a lot less threatening than people think. "Great Whites are misunderstood and misconstrued as… ravenous, mindless, man-eating machines and that's not how they are."
In a blog post on WaterInspired.com, Ocean describes getting up close and personal with the inspiration for the classic 1970s horror flick, Jaws.
"It's difficult to express the incredible joy and breathtaking emotion experienced locking eyes with a great white shark," she writes."Watching the shark acknowledge and observe me, while I peacefully and calmly allowed it to swim towards me, and then experiencing it accepting my touch…"
She likens the experience to connecting with horses.
Ocean posted her YouTube video – which she called "A Blonde and a Great White Shark" – to promote shark conservation -- explaining the number of great whites has dwindled to an estimated 339 in the North Pacific.
Article continues below advertisement
Ocean is urging people to take action by signing a petition at Oceana.org demanding they be treated as an endangered species.
Arguing that great white sharks are "very cautious about approaching humans" she says: "Sharks play a vital role in maintaining a healthy ocean eco-system.
"Many people are unaware that sharks are being over-fished to the point of extinction..."
But Ocean doesn't think everyone should try to become swimming buddies with sharks.
She says: "I'm not advising that people go out and just jump in the water with great whites, just as I wouldn't recommend jumping into a yard with a strange dog."
youtube