It's No Fish Tale! Giant Aquarium Explodes In China, Hurling Sharks At People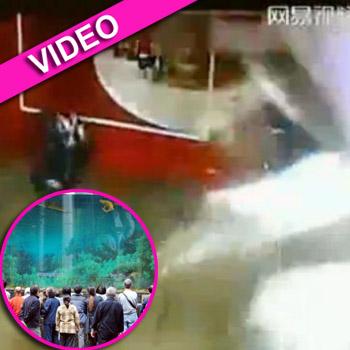 As if the movie Jaws didn't freak us out enough about the ocean, now we have to worry about aquariums!
In just released video, we see a 33-ton shark tank suddenly explode last Wednesday at the Oriental Shopping Center in Shanghai, China, sending sharks flying into the passersby.
The incident left 15 bystanders injured and three sharks dead.
There is still no official explanation as to why the gigantic 23 ft-by-10 ft shark tank exploded. The tank was only two years old, but it's believed that a sudden cold snap that day in Shanghai may have contributed to thick aquarium glass shattering.
Article continues below advertisement