Exclusive
'Lamar Spent $50K On Cocaine In Three Years... He Even Smoked It Before An NBA Game,' Star's 'Mr. Fix It' Claims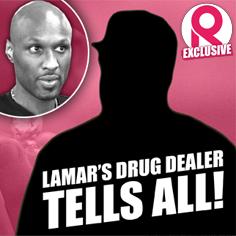 Lamar Odom has smoked more than $50,000 worth of cocaine in the past three years -- including one wild binge before an NBA game just six months ago -- a man claiming to be the star's drug dealer has exclusively told RadarOnline.com.
The troubled two-time NBA championship winner's preferred method of substance abuse is to freebase cocaine, a process popular amongst the Hollywood party crowd, by which the drug is purified by burning it and the user then inhales the fumes, the dealer said.
Article continues below advertisement
In a blockbuster video interview, Odom's New York-based "Mr Fix It" alleged he's been in the presence of the ex-Los Angeles Clippers star "high" on as many ten occasions since 2010.
"He likes to party," the self-confessed dealer-to-the-stars told RadarOnline.com. "He's a pretty nice guy to be honest with you, but he's becoming … his problem seems to be becoming a bigger problem.
"In my experience, he literally likes cocaine -- he is a cocaine guy. He likes to smoke it," added the man, who spoke to us on the condition we obscured his face and voice.
The dealer also provided evidence to corroborate his story, including photographic proof of his ties to the 33-year-old power forward.
When asked if he'd ever eye-witnessed Odom smoking or freebasing cocaine, the man recounted one instance when he said the E! reality star was higher than a kite.
"Specifically, I want to say it was February of 2013," he said. "He was in New York. For other reasons, I don't really want to give the specific location of the place … sounds weird that I want to keep a level of discretion at this point, but, he was in New York. He comes to New York a lot."
Article continues below advertisement
Shockingly, the dealer claimed that cocaine spree actually took place before the Clippers' 14-point win over the New York Knicks at Madison Square Garden on Feb. 10.
Odom played 22 minutes in the subsequent game, scoring two points and snaring seven rebounds and five assists.
"I know it for a fact because I sold him the stuff and saw him smoke it," the man said. "He spent about 16 grand."
"In one sitting?" RadarOnline.com probed.
"More or less, yeah," the dealer responded.
When quizzed what $16,000 would get Odom, the man flatly stated: "It gets you pretty f**ked up."
He added, "Quantity wise, it was a little under half a kilo. But it's not coming in a form that I would give it to another dealer, it's coming more broken down so it's like, okay, I want to spend 3 or 4 grand and I'll call you back, hey I got another four grand for you, hey I have five, it's more like that."
Article continues below advertisement
The blockbuster interview provides a stunning account of Odom's secret drug habit as has been exposed by RadarOnline.com in the wake of his marital crisis with reality star Khloe Kardashian.
radar_embed service=5min.com src="http://pshared.5min.com/Scripts/PlayerSeed.js?sid=1126&width=570&height=351&playList=517919338&sequential=1&shuffle=0"
The first-hand account of Odom's descent into a seedy world of hard drugs comes after he was linked sexually to two women behind the back of wife Khloe Kardashian.
As RadarOnline.com first reported, Odom has also worryingly become hooked on Ambien and OxyContin, a synthetic form of morphine — a drug that is considered twice as strong as the narcotic.
Remarkably, the dealer who enabled Odom's habit -- he was introduced via "other athletic colleagues and promoters" -- is now begging him to get help in a bid to get his life, marriage and career back on track.
He described Odom as having a "huge problem and he has a very addictive personality. It is becoming worse as you can see."
Article continues below advertisement
"The only thing I know he does (is cocaine)," charged the man.
"I do not know anything about these new developments about him using pills. I do not know anything about that. The cocaine he fancies."
"I would say I have heard him snort before and him speak of snorting, but in all reality, I know for a fact that he smokes it.
"Not so much in the crack form, to my knowledge, but he freebases the coke. he smokes the cocaine. Absolutely."
Article continues below advertisement
Then, users apply a heat source — a butane or propane torch — to the pure cocaine and inhale the vapors.
The attraction of freebase is said to be the sensation it produces — a 30-second rush, followed by a two-minute euphoric high.
But the high is soon followed by a crash — and an insatiable desire to repeat the experience.
When asked how much money Odom has splashed on cocaine over the three years the dealer has known him, the dealer estimated: "Roughly, more than 50 grand... over the time I've known him."
Article continues below advertisement
Despite his increasingly concerning troubles -- Odom was also arrested last Friday for a DUI -- the basketball star has refused to enter treatment and even rejected desperate pleas during an intervention at a Los Angeles hotel last Monday, attended by some of his ex-Lakers teammates and current Clippers.
A source told RadarOnline.com: "Lamar is really resisting rehab... Lamar thinks he can kick this on his own. It's very hard for him to admit that he needs help."
His agent nor a spokesperson for the Kardashians returned a request for comment about the dealer's claims.
"Dude, you are a drug addict," the man pleaded to Odom, via RadarOnline.com. "This is becoming to the point where you could lose your life."