'Yeah, That Wh*re!' Kendall Jenner's Disrespect Toward Mother Kris Blamed On 'Bad Influence' Khloé Kardashian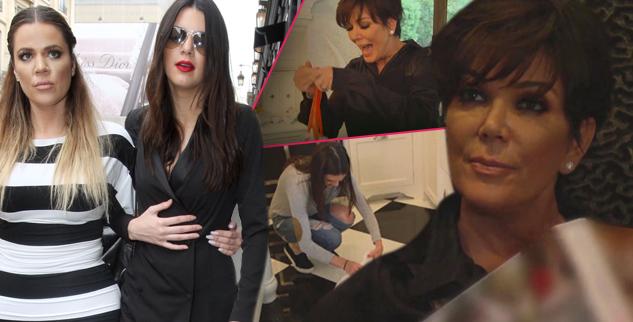 How low can they go?
Keeping Up with the Kardashians viewers were treated to a Sunday night episode revolving around Kris Jenner's distress after daughter Kendall Jenner refused to pick up her dog's poop, and Khloé Kardashian's fears that she was a bad influence on her younger sister.
Kendall was so busy with her modeling career that she neglected to care for her Great Dane Blu, and Kris was left to pick up the pieces, so to say.
Article continues below advertisement
As RadarOnline.com previously reported, in Kendall's absence, Kris shouted at daughter Kim Kardashian for not helping her clean up the doggy diarrhea that stunk up the family home's hallway.
And later, Kris moaned that her daughters didn't take her complaints seriously: "How come it always turns into me being a horrible person?"
But when Kendall, Khloé, Kim, and Kris went to a spinning class together, the momager, who split from husband Bruce Jenner, admitted she was going to nightclubs and Khloé said, "My mom needs so much attention" and Kim called her embarrassing.
Meanwhile, in a sexy aside from Kim, Kanye West's new wife said, "My twerking skills are for the bedroom, not for the club."
But later, Kim got to the business at hand, admonishing Kendall that she needed to take care of her own dog.
"You're turning into mom," Kendall whined.
Meanwhile, Khloé commented callously about her mom having six kids: "If you wh*re yourself out that much and have six kids, you should have a little repercussions."
Article continues below advertisement
Kendall commented of Kris, "Yeah, that wh*re."
Kim sighed about her younger sister's foul mouth, "Well, isn't Kendall turning into a little mini-Khloé."
Kendall countered, "Not a bad thing."
Later, Kim told the cameras that Kendall was being mean to their mother, just like Khloé.
"Khloé is being a bad influence," Kim said. She told her sister that the two younger girls, Kendall and Kylie, looked up to her.
Taking the criticism to heart, Khloé admitted to the cameras, "I've been b*tchy to my mom for awhile. My bad attitude is rubbing off."
Khloé then told Kendall, "We have to be nicer to her."
The girls went and gave Kris a group hug.
"Kendall and I are making a pact that we're going to be nicer to you," Khloé told Kris.
And Kendall admitted she needed to start taking more responsibility for things, including her un-potty trained dog!
Article continues below advertisement
Later, Khloé treated her mom to a surprise trip to a nightclub where rapper The Game entertained.
"I don't have any underwear on at all," cougarific Kris admitted before the outing.
In a sly reference to her rumored boyfriend, Khloé revealed that P. Diddy wouldn't be at the club because, "He's out with French Montana and he's in Miami, actually."
Watch the video on RadarOnline.com
Khloé then said approvingly, "My mom can let her hair down, drink as much as she wants, get wild."
After Kris presided over a club twerking contest, Khloé said, "My mom is a phenomenal woman. She is the glue that holds this family together."
Also on the Sunday episode, Scott Disick bought a mobile van to use as an office to avoid family distractions.
During the plotline, Disick asked his baby mamma how many more kids they were going to have and Kourtney Kardashian (who recently confirmed her third pregnancy) smiled, "I would think two more."
"She's got birth control and she doesn't take it," Disick told Khloé.
Kourtney didn't like Disick's office on wheels and said they should be saving up for their new house -- so she simply got rid of the van.