Exclusive
Inside Kris Jenner's Mexican Vacation With Boy Toy Ben Flajnik (And A Sea Lion!) -- Plus, Does He Date For Cash?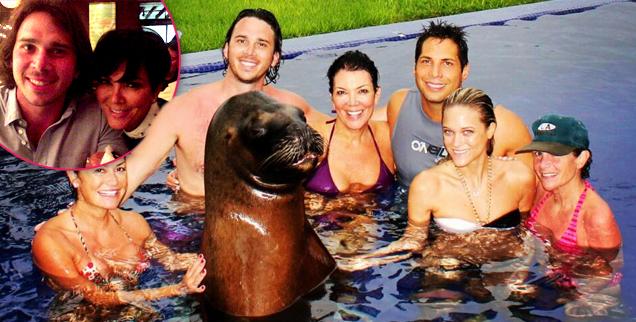 Apparently Kris Jenner is pulling out all the stops to impress her boy toy, former Bachelor star Ben Flajnik. In early September, RadarOnline.com has learned, she whisked him away for a luxurious vacation at Girls Gone Wild founder Joe Francis' Mexican mansion -- complete with a real-live sea lion for a pool toy!
A photo from the over-the-top getaway in Punta Mita shows a topless Flajnik cozied up to Jenner, who is baring her cleavage in a shiny purple bikini, as the two swim in Francis' pool with a giant sea lion on September 9. Francis' girlfriend, Abbey Wilson, originally tweeted the pic, as well as another shot showing the crew feeding the animal.
Article continues below advertisement
Francis has said that he rents the 11-year-old 600-lb. animal, named "Litibu," from the nearby Vallarta Adventures water park to play with his girlfriend, Abbey Wilson, once a week.
Such extravagances have become the norm for Flajnik ever since he started hanging out with his sugar mama, who recently separated from her husband, Bruce Jenner. Flajnik has been spotted driving the Keeping Up with the Kardashians momager's Bentley in recent weeks, and has been seated by her side in VIP at concerts by Beyonce and Kanye West.
He's insisted that he's just friends with the multi-millionaire, but the former reality star and wine entrepreneur has made no secret of his desire to date for cash in the past.
They Make How Much?! The 23 Highest-Paid Reality TV Stars
In September, Gilt City San Francisco offered fans the opportunity to go on a date with Flajnik -- for $2,500. "If you had a major crush on Ben Flajnik when he was on The Bachelorette, or as a star of his own season of The Bachelor, now is your chance to spend a one-on-one afternoon with the handsome reality star," the now-expired listing promised, adding, "…Ben is famously heartfelt … It's his compassion and charm that landed him his own season of The Bachelor."
It's unclear if anyone took him up on the offer, but his social calendar is occupied by Jenner these days: On Tuesday night, she posted a pic of the couple with a friend having a "date night" at Nobu.