'Leave The Modeling To Your Daughters!' Fans Blast 57-Year-Old Kris Jenner For Posting Instagram Bikini Pic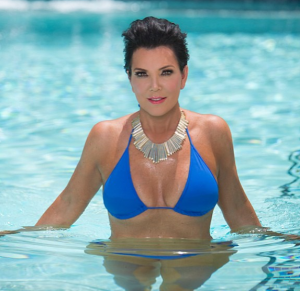 As Kim Kardashian continues to keep her post-baby body under wraps, and Khloe deals with the fall-out from Lamar Odom's drug addiction, momager Kris Jenner has stepped up to ensure that the family keeps churning out R-rated Instagram pics. The fifty-seven-year-old uploaded a highly stylized bikini shot to Instagram on Tuesday. But fans were hardly thrilled.
"Last day of summer gonna miss you," Jenner captioned the pic, which showed her submerged in a pool wearing full makeup, a blue bikini top, and a chunky silver necklace. (The last day of summer is on September 21, next Saturday.)
Article continues below advertisement
But her 1.9 million Instagram followers were less than impressed.
User @nolwah wrote, "Plz Plz Plz Kris. Leave the modeling to your daughters. Plz."
Wrote @jessicafrithx, "If that's not airbrushed I don't know what is!"
And yet another commenter chimed in, "This old b**ch trying too hard."
Kris has never been shy about showing off her nipped-and-tucked body before, even posing in a bikini on the cover of Australia's New Idea magazine last year.
Do you think she should continue to flaunt what she's got? Or should grandmothers pushing 60 keep their clothes on on Instagram? Let us know in the comments!