Burying Your Head In The Sand? Kourtney Kardashian Claims She Hasn't Seen Any Negative Reaction To Kim, Kanye 'Vogue' Cover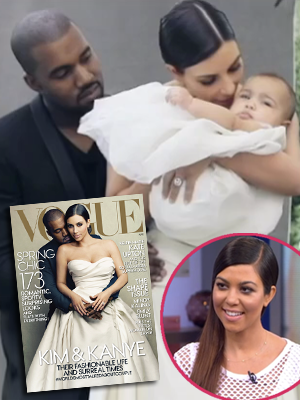 See no evil, hear no evil, speak no evil?
Kourtney Kardashian, appearing on Good Morning America Monday, amazingly claimed she hasn't noticed any of the uproar in her sister Kim's debut on the Vogue cover, despite the topic being the talk of the weekend — some of it in disgust.
"I haven't seen any reaction … I don't hear about any news … I'm the last to hear everything," the eldest of the trio of Kardashian sisters said, noting she saw nothing but "amazing, positive responses" on her Instagram page after she posted a shot of the ballyhooed Vogue cover.
Article continues below advertisement
MORE ON:
Good Morning America
Article continues below advertisement
"Everyone knows Vanity Fair is strictly A-list only, which means no reality stars," an insider told us regarding Kim's exclusion. "It would have been a circus if Kim along with her mom and sisters went to the party … the publication would have gotten nothing but grief from actors that didn't get an invite!"
Watch the video on RadarOnline.com
ABC US News | ABC Business News
Elsewhere in the Kourtney chat, when she was asked about the mood shooting the upcoming season of Keeping up with the Kardashians — the first which will see now separated Kris and Bruce Jenner moving on with their lives — the 34-year-old said there have been "a lot of changes" as the reality TV family embarks on "new beginnings" in their lives.
"But it's been good — all positive changes — it kind of goes with the territory when we film. There's highs and lows, and we show all of those moments."
"You always have!" GMA anchor Lara Spencer chimed in.