Bruce Jenner Still Wearing Wedding Ring, Not Seeking Companionship During Separation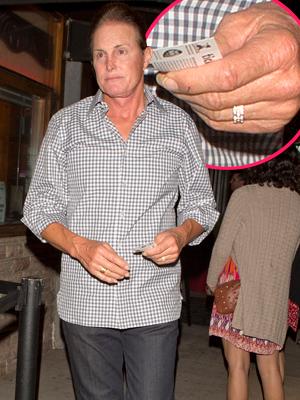 Bruce Jenner might be painting the town red, but he's still wearing his wedding ring and going home alone.
An insider tells People the 63-year-old Olympian, seen here going to watch his son Brandon perform at West Hollywood's famed Troubadour Saturday, hasn't even considered the notion of dating anyone else since the separation.
"We talked about it and he said, 'I'm not even going to think about another relationship at this point," the source told the magazine. "After being with her for so long, I can't imagine getting involved with someone else.'"
Article continues below advertisement
His daughters Kendall and Kylie were along for the fun, and the source said the group appeared to be "having a chill night out" and that the avid golfer was "in great spirits.
"It was definitely all about his family."
Bruce made a speedy exit from the venue after the show was over, evading photographers on the scene.
As we exclusively reported, Kris continues to manage her estranged husband through the darkest days of their marriage.