What Was She Thinking?! Anna Wintour Explains Kimye 'Vogue' Cover -- Insists, Kanye DIDN'T Beg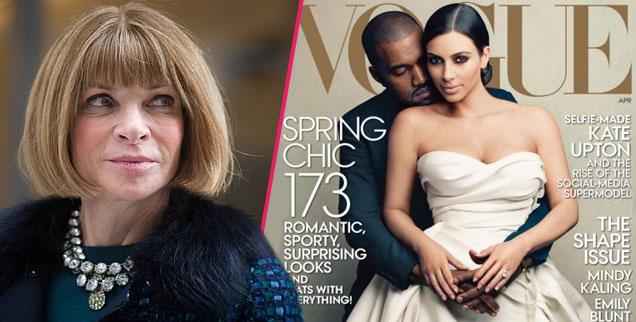 Article continues below advertisement
"I think we can all agree on the fact," Wintour continued, "that that role is currently being played by Kim and Kanye to a T. (Or perhaps that should be to a K?)"
The insisted that despite the backlash surrounding the cover, "My opinion is that it is both charming and touching, and it was, I should add, entirely our idea to do it; you may have read that Kanye begged me to put his fiancée on Vogue's cover. He did nothing of the sort."
They Really Did Say It! 50 Outrageous Kardashian Quotes
But he did make a public campaign out of the issue. In October 2013, West told Ryan Seacrest, "There's no way Kim Kardashian shouldn't be on the cover of Vogue. She's like the most intriguing woman right now. … and collectively we're the most influential with clothing."
Do you agree with Wintour's decision? Why or why not? Let us know in the comments!