'Vogue' Cover Or Bust! Wannabe Cover Girl Kim Kardashian Kisses Up to Editor Of Mag's Italian Version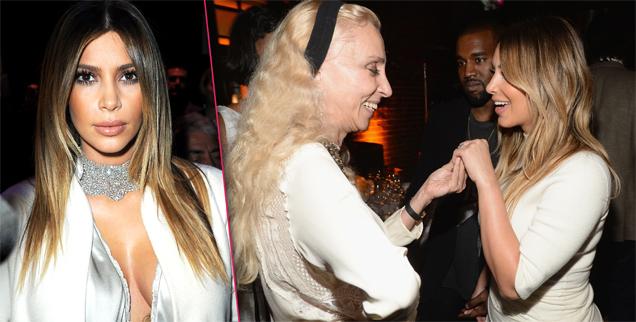 Article continues below advertisement
Previously, Kardashian had also made sure to chat up Sozzani at the Dream for FutureAfrica Foundation on October 27 in L.A.
Could the Italian editrix be her path to a Vogue cover at last? Sozzani actually already made the Keeping Up with the Kardashians star a cover girl back in 2012, when she graced the cover of men's mag L'Uomo Vogue. Kim played that appearance off as the real thing, happily bragging about her Vogue cover all over social media.
But as baby daddy West has often pointed out, a cover on the original fashion bible has eluded Kardashian.
"There's no way Kim Kardashian shouldn't be on the cover of Vogue right now," he said last year. "She's like the most intriguing woman right now. She's got Barbara Walters calling her like everyday. And collectively, we're the most influential with clothing."
Do you think Kardashian deserves a Vogue cover? Let us know in the comments!