Kanye West Thinks Kim Kardashian Is More Influential Than Michelle Obama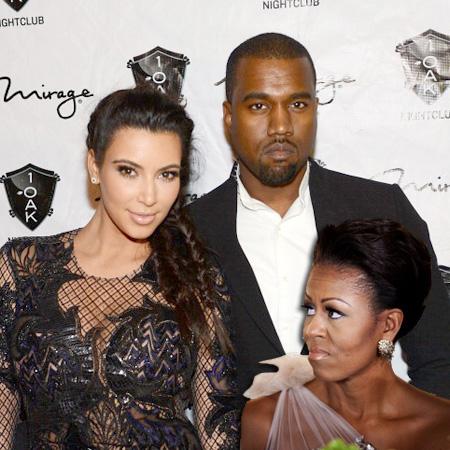 In a radio interview during On Air With Ryan Seacest, Kanye West referred to his fiancée Kim Kardashian as "the most intriguing woman right now," claiming that the reality star is more influential than First Lady Michelle Obama.
During the lengthy chat, the rapper revealed he is lobbying to get the Keeping Up With the Kardashians star her first Vogue cover, RadarOnline.com Online has learned.
"There's no way Kim Kardashian shouldn't be on the cover of Vogue. She's like the most intriguing woman right now. She's got Barbara Walters calling her like everyday," he said, noting that reality stars have often been overlooked by mainstream fashion magazines.
Article continues below advertisement
"And collectively, we're the most influential with clothing. No one is looking at what Barack Obama is wearing. Michelle Obama cannot Instagram a bikini pic like what my girl Instagrammed the other day," comparing his sex-tape starring fiancée to the Harvard Law School graduate.
There really is no love lost between the Yeezus rapper and the First Family. After West's 2009 MTV VMA debacle with Taylor Swift, President Obama called West a "jackass," and the First Lady has said that her husband doesn't approve of the Kardashian's reality show.
The hip-hop heavyweight shared new details about his recent proposal and upcoming wedding, revealing that though he received Kris Jenner's blessing prior to popping the question, he kept his plans a secret from the rest of Kardashian's friends and family.
"Everybody that came in just thought it was a surprise party…As soon as Kim heard the Lana Del Ray song playing, she just figured I was going to have Lana sing and we were going to have dinner. Because at a certain point she just knows I'm going to do something turnt up," he recalled.
Article continues below advertisement
"So she was expecting something awesome. The guy who organized it was talking about this romantic lighting and I was like, 'Enough already! We're at a baseball field. It has to be fully lit!' That was one of the things that was making me really mad. I was like, 'Let me do it like how I would do it.'"
As RadarOnline.com previously reported, Kardashian accepted West's over-the-top proposal, which took place San Francisco's AT&T Park for the socialite's 33rd birthday.
The Grammy winner plans to be heavily involved in the wedding planning process.
"I want to pick who is going to be in charge," he said. "I'd like to get the people who do the Chanel shows."