Kanye West Caught On Secret Audio: Trashes Pink, MTV & Taylor Swift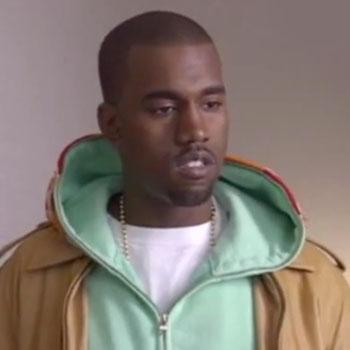 A secret audio recording features a person alleged to be Kanye West ranting about Taylor Swift, MTV and Pink -- trashing all of them while championing his own talent.
The tape, first obtained by Gawker, is said to have been recorded on the night of the 2009 MTV Video Music Awards after West infamously grabbed the microphone away from Swift on stage when she won the Best Female Video award over Beyonce.
Article continues below advertisement
On the audio West rants about Swift, says his mother Donda West "died for this fame sh*t" and strongly expresses he can't believe that Pink was chosen to perform two songs at the awards.
Oh, and in typical Kanye style, he emphatically tells everyone about his greatness!
"I'm pushing the envelope," he says angrily. "I wrote my f*ckin' Run This Town verse for a f*ckin' month! When I heard Eminem's verse on the Drake sh*t, I went back and rewrote my shit for two days. I canceled appointments to rewrite! I f*ckin' care! You know what I'm saying? And that's what I'm saying."
But that's not all he's saying.
He's also saying he can't believe Swift won over Beyonce.
"Because I did that, Taylor Swift cannot win over Beyoncé! Because I wrote my verse in two days, Taylor Swift cannot beat Beyoncé," he practically shouts. "As long as I'm alive! And if I'm alive, kill me then! Kill me then! As long as I'm alive, you gon' have to deal with it. 'Cause there ain't gonna be no more mother**king Elvises with no James Browns."
Article continues below advertisement
In the days following the awards West apologized over and over again for his Swift diss at the awards. But on this pre-apology tour tape he is so amped about it that a female is heard asking him, "Why are you so angry?"
He answers: "Because my mother got arrested for the f*ckin' sit-ins. My mother died for this fame shit! I moved to f*ckin' Hollywood chasing this sh*t. My mother died because of this sh*t. F*ck MTV."
Pink was chosen to perform twice on the VMAs. Did that make Kanye happy? No, it most certainly did not.
He says: "It ain't no love. What the f*ck was Pink performing? Don't nobody know that song. Pink performed twice! Two songs? How the f*ck Pink perform two songs and I didn't even get asked to perform Heartless. Heartless is the biggest song of the year! It had the most spins of the first quarter! I don't know that Pink song! But I noticed that she's pink!"
Article continues below advertisement
(Well he's right about that!)
Listen to the audio here on Radar.
Ironically, while Kanye nearly ruptures an internal organ forcefully expressing how much time and effort and care he puts into his lyrics and music, legendary producer Rick Rubin recently revealed how a super-busy West wrote lyrics for his new album Yeezus on the spot!
Rubin told the Daily Beast about his experience helping Kanye shape the album at the last minute. "Three days before Kanye had to turn the record in he tells us, 'I'm going to Milan tonight.' There are probably five songs that still need vocals at this point. Two still need words!" Rubin revealed. "So he says, "I have to go to this baby shower before I go to Milan. I'll be back at 4 p.m., and from 4 to 6 I'll do the vocals. Then I have to go.
"He didn't come back until after 4, and we probably didn't start until after 5. He said, 'I have an hour and 10 minutes. Let's go.' It probably ended up taking two hours. Five vocals. He wrote two lyrics on the spot."
Listen to the audio here on RadarOnline.
https://media.radaronline.com/brand-img/wp-content/0x0/2013/07/kanyegoesoff.mp3