Exclusive
'Girl' Fight! Kanye West Confronts Anna Wintour Over Putting Lena Dunham On 'Vogue' Cover Instead Of Fiancée Kim Kardashian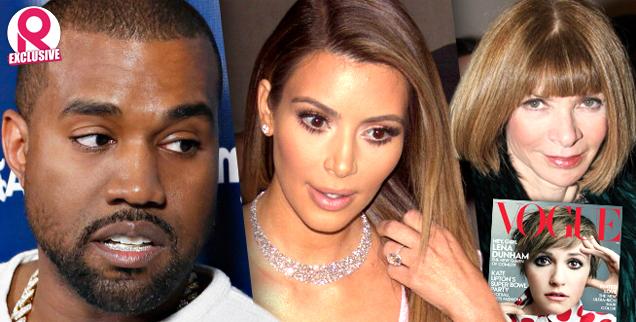 Too big for your designed sneakers, Kanye? During a recent power lunch at the Beverly Hills Polo Lounge, the hip hop star demanded answers from Vogue Editor-In-Chief Anna Wintour to the question: Why did she judge Girls star Lena Dunham as being cover worthy for the famed fashion bible, while his fiance, Kim Kardashian, has long been overlooked?
Kanye, 36, insisted to the British-born fashion icon that Kim is "just as talented as Lena, if not more so," one source revealed to Radar.
Article continues below advertisement
"Kanye thinks that Kim has a much bigger fan base and appeal than Lena," said the insider.
"To Kanye, it's insulting that his friend Anna is still refusing to even consider putting Kim on the cover of Vogue. He thinks Anna is listening to a bunch of 'know-nothing' corporate haters, as he put it. He's upset that Anna isn't willing to do him this personal favor and put Kim on the cover.
"Kanye knows that it's always been a huge dream of Kim's to be on the Vogue cover and Kanye wants to make it comes true. If nothing else, Kanye is persistent."
During an interview with Ryan Seacrest last year, Kanye declared: "There is no way Kim Kardashian shouldn't be on the cover of Vogue. She is the most intriguing woman right now. She has got Barbara Walters calling her like everyday."
The father-of-one may still has some work to do, however.
Last May, in a fashion slap heard around the world, Vogue editors cropped Kim out of its "Best Dressed" gallery when she appeared with West on the Met Ball red carpet in Manhattan, wearing the now infamous and universally panned floral print ensemble.
Article continues below advertisement
"She hopes that will get Kanye off of her back," said the insider.
"There would still be some backlash if Anna allowed that to happen, but not as much if Kim were to appear on the U.S. edition."