Exclusive
From 'Vogue' To 'Vanity Fair': Kim Kardashian 'Desperately Wanted' Coveted Invite To Magazine's Oscars Party -- But Was Denied!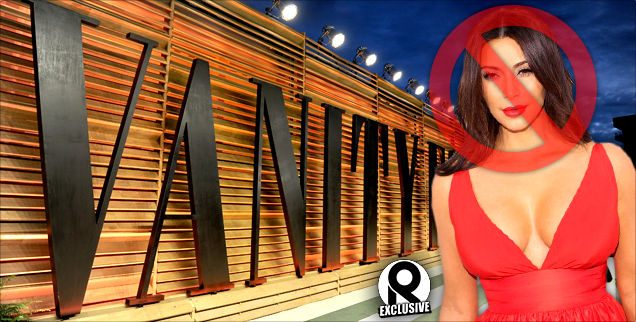 Even though Kim Kardashian is engaged to mega celebrity Kanye West, the famed reality television starlet was unable to leverage her star status to secure a coveted invite to the Vanity Fair Oscar party, RadarOnline.com has exclusively learned.
The 33-year-old mother-of-one "desperately wanted to attend," a source revealed.
But when it was not forthcoming, Kim and sisters Khloe and Kourtney along with their momager Kris Jenner decided to attend Elton John's annual Aids Foundation Oscar party.
Article continues below advertisement
"Kim had been hoping to get an invite to the Vanity Fair party," the insider confided.
"It's the hottest party during the entire award season and Kim desperately wanted to go. Kim's camp had made inquiries to the Vanity Fair party host Graydon Carter about whether she'd make the list. He never got back to her people! It wasn't ever going to ever happen.
"Everyone knows Vanity Fair is strictly A-list only, which means, no reality stars. It would have been a circus if Kim along with her mom and sisters went to the party. Graydon would have gotten nothing but grief from actors that didn't get an invite!"
Article continues below advertisement
As RadarOnline.com previously reported, Kardashian enlisted her baby daddy to talk Vogue boss Anna Wintour, in the hopes of appearing on the cover of the fashion bible.
Said another source: "To Kanye, it's insulting that his friend Anna is still refusing to even consider putting Kim on the cover of Vogue. He thinks Anna is listening to a bunch of 'know-nothing' corporate haters, as he put it. He's upset that Anna isn't willing to do him this personal favor and put Kim on the cover.
"Kanye knows that it's always been a huge dream of Kim's to be on the Vogue cover and Kanye wants to make it comes true. If nothing else, Kanye is persistent."
During an interview with Ryan Seacrest last year, Kanye declared: "There is no way Kim Kardashian shouldn't be on the cover of Vogue. She is the most intriguing woman right now. She has got Barbara Walters calling her like everyday."