Exclusive
She's NOT In Vogue: Kim Kardashian Cover Shoot For Famed Fashion Bible Isn't Happening, Despite Rumors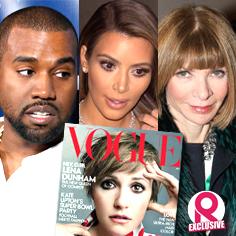 Despite rumors running rampant in Hollywood that Kim Kardashian is currently working on a photo shoot for Vogue, a magazine insider has revealed to RadarOnline.com that it's simply "not true" and Kanye West's fiancé STILL won't be gracing the cover of the fashion magazine anytime soon.
The rumors began on Sunday night when Jezebel reported that the Keeping Up With The Kardashians star, 32, was in the midst of a photo shoot for the long-debated cover of Vogue.
Article continues below advertisement
"They're in LA shooting RIGHT NOW," a source was quoted as saying.
But a high-placed publishing insider dished to Radar: "The rumors about Kim shooting the U.S. Vogue cover are NOT true."
As Radar previously reported, West has been "absolutely determined" to persuade the powerful Vogue editor Anna Wintour to put his reality star fiancée on the pages of her high-class fashion publication.
Despite the hip-hopper's considerable star power, "Anna has remained typically aloof to Kanye's constant advances and offers," a source told Radar.
But Kardashian is reportedly so desperate for a Vogue cover, it seems she's eying international versions of the fashion bible. Several weeks ago, she and West were spotted cozying up to the Editor-in-Chief of Vogue Italia, Franca Sozzani, during her trip to Paris.
No word on if the brunette bombshell will land an international cover -- but Sozzani was in Milan all weekend, per her Twitter, as rumors swirled about Kardashian's Vogue cover.
Article continues below advertisement
As baby daddy West has often pointed out, a cover on the original fashion bible has eluded Kardashian.
"There's no way Kim Kardashian shouldn't be on the cover of Vogue right now," he said last year. "She's like the most intriguing woman right now. She's got Barbara Walters calling her like everyday. And collectively, we're the most influential with clothing."
When reached for comment about Kardashian landing a future cover, the rep for U.S. Vogue told Radar: "We do not comment on rumors of future editorial."
Do you think Kardashian deserves a Vogue cover? Let us know in the comments!