Embarrassing September Issue For Anna Wintour: Vogue Editor Displays Mangled Toes In Milan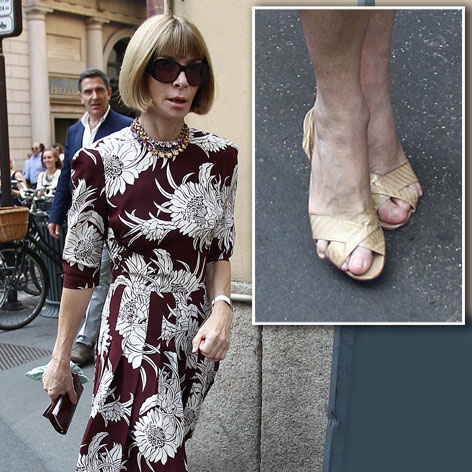 Anna Wintour had quite a September issue of her own -- the Vogue editor displayed mangled toes sticking out of her high-heeled peep toe sandals on Saturday.
The magazine maven known for her fashionista snobbery was photographed walking in Milan, Italy with what looked like too small (but no doubt expensive!) shoes that caused her right baby toe to splay out. From the awkward angle of her big toes, Wintour also appeared to be developing bunions, which are usually caused by too tight shoes.
Article continues below advertisement
The 63-year-old editor also wore a brown print dress and her trademark bobbed hair, sunglasses, and dour expression!
Was Wintour plotting a new celebrity Vogue cover in Milan? On Saturday, she also met with Selena Gomez at the Four Seasons Hotel in the hot Italian fashion city.
Check out our gallery here.