Lena Dunham Set To Be A 'Vogue' Cover Girl? Anna Wintour Hosting 'Top Secret' Dinner To Woo 'Girls' Creator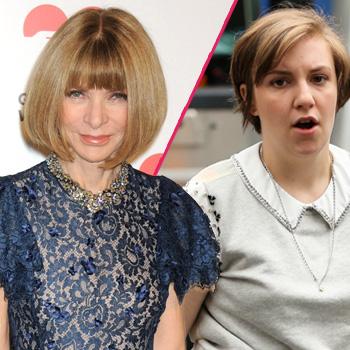 Vogue editor Anna Wintour is pulling out all the stops to woo Girls creator and actress Lena Dunham, RadarOnline.com has exclusively learned.
The infamously tetchy fashionista will be hosting a top secret, private dinner for the 27-year-old actress, who is at the helm of the hit HBO series, according to a well-placed magazine source.
It's all part of Wintour's campaign to bring Dunham and her fans into the fashion bible's fold – a move that might even include putting the curvy New Yorker on the magazine's front cover.
Article continues below advertisement
"Anna is trying to seduce Lena into bringing her next-generation audience into the Vogue brand," the insider says of the 63-year-old Brit.
"And she's willing to violate a lot of Vogue traditions to do it, including putting her on the cover even though she doesn't really conform to the body type that Vogue has featured for most of its history."
Adele is the only other celebrity in recent history – who is considered to be overweight – that has made it onto the magazine's front cover.
"This dinner is a first step for Anna to see if Lena will play ball," the source says.
"But Anna's perspective is that they need each other."