The Devil Still Refusing To Keep Up With The Kardashians! Anna Wintour Continues To Loathe Kim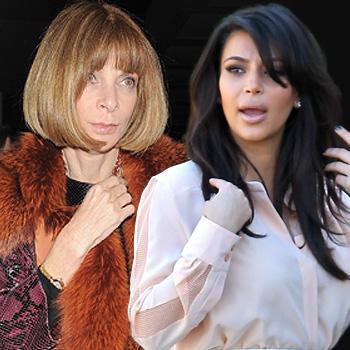 Kim Kardashian may have snagged an A-list baby daddy, but that hasn't scored her any points with Anna Wintour!
The 32-year-old reality star is expecting her first child with one of the legendary Vogue editor's favorite male fashionistas, Kanye West, but the ice queen still refuses to acknowledge Kim as a bona fide celebrity, according to a report in new issue of Star magazine.
"For some reason, she thinks Kanye is terrific," a source dishes to Star about Wintour's infatuation with the rapper, revealing that Anna refused to even acknowledge Kardashian when she saw the couple at New York Fashion Week recently and thinks she is the worst thing since socks with sandals!
Article continues below advertisement