Exclusive
Met Gala Snub: Don't Expect Kim Kardashian On The Cover Of Vogue Anytime Soon!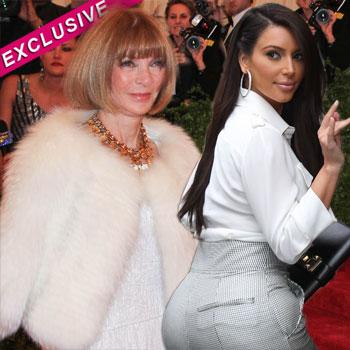 Article continues below advertisement
"Anna hates Kim," a source says. "Why would she be invited to the event? It is all the biggest stars in the world and Kim doesn't fit that bill at all."
This year, big screen bombshell Gwyneth Paltrow, sexy new mom Beyoncé, and supermodel Gisele Bunchen and her QB hubby Tom Brady attended the Elsa Shiaparelli and Miuccia Prada exhibit dressed in the hottest couture from the world's most important fashion designers, but Kim wasn't among them.
"The Met Gala is $25,000 a ticket, but Kim can't even buy her way in, Anna Wintour does NOT want her there!" the source says.
Kim and her very pregnant sister Kourtney Kardashian were snapped on Monday running errands in Los Angeles, and the source says she'll likely try and justify her absence.
"Kim and her camp will deny that she wasn't invited by saying that she had business in L.A., but that is a lie," the source says. "She would of done anything to be there with all the A-listers."
Article continues below advertisement
Dating Kanye can get Kim lots of bling, but it can't get her into the most coveted party of the year!
And, don't expect to see Kardashian gazing out from the cover of the esteemed fashion mag anytime soon either!
"Anna Wintour would allow Kim Kardashian on the cover of Vogue over her dead body," the source says. "As long as Anna in charge you will NOT see Kim on Vogue."
RELATED STORIES:
Kris Humphries To Kim Kardashian: Gimme Back The Engagement Ring!