While Kim's Away! Kanye West Checks Out Knicks Cheerleaders While Kardashian Is In Los Angeles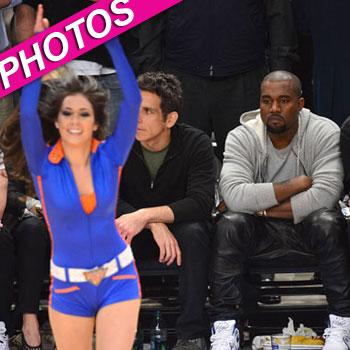 Article continues below advertisement
But he couldn't help gawping at the beautiful forms on display as he sat courtside to watch the Knicks take on The Miami Heat.
To be fair to the newly coupled-up rapper, even happily married Ben Stiller was struggling not to look at the gorgeous girls in their tight and skimpy blue and yellow costumes.
But the 34-year-old Gold Digger star stared so much at one point that his mouth fell open, and Kim is surely not going to enjoy seeing that image.