Exclusive
Kim Kardashian Tweets Support Of Radio Show Bashing Kris Humphries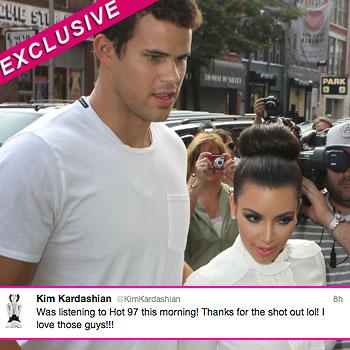 Article continues below advertisement
"I'll tell you this much Kim definitely upgraded from Kris Humphries," Rosenberg told his listeners. "He went from being an unknown NBA player to one of the most talked about players, just because of dating Kim. He even became a better basketball player after dating and marrying her."
Kardashian promptly posted a message of support on her Twitter page which has more than 14 million followers: "Was listening to Hot 97 this morning! Thanks for the shout out lol! I love those guys!!!"
"Kris wasn't listening to the show but he would never support anyone speaking unkindly or maliciously about Kim. It's just not who he is as a person," a source close to the situation tells RadarOnline.com. "It's disappointing that Kim has chosen to embrace that sort of negativity about their relationship. Kris has moved on and even if she continues to behave in this manner he won't change who he is and sink to her level, it's just not necessary."