Kim Kardashian Wants To Adopt – And Get Pregnant!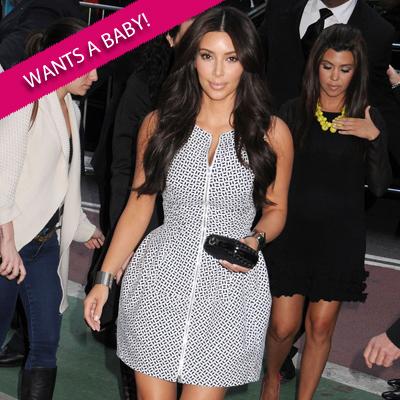 Now that Kim Kardashian is moving past her divorce drama with Kris Humphries and has hooked up with hip hop mogul Kanye West, she reportedly wants to become a mom.
The reality TV star is moving ahead with plans to adopt a baby from overseas and is also thinking about becoming pregnant this year, according to the new issue of OK magazine.
"She feels it would be a great way to honor her father and her heritage," an insider told the magazine about plans to adopt from Armenia.
Article continues below advertisement
"Kim has always planned on having a big family and wants to get started on it right away. She feels like the early 30s are the perfect time to start. Right now, the timing is perfect. She's responsible enough to be a good mother but young enough that she can keep up with a toddler," the insider added.
Kim -- who's been a doting aunt to her 2-year-old nephew Mason -- has expressed her desire in the past to have a child and her mom, Kris Jenner, fully supports the idea.
"Kim is going to be a great mom," Kris told OK. "She's a really good person and a lot of fun, and I think you put all those things together, and you're just going to have somebody that is so full of love."
The insider also says that in addition to adopting, Kim wants to have a baby the old fashioned way. "She's going to get pregnant. She says she wants to have a biological baby right after the adoption," says the pal, who adds that actress Angelina Jolie is Kim's inspiration.