Exclusive
Wedding Deja Vu: Will Kim Kardashian Do It For The Cameras A Second Time?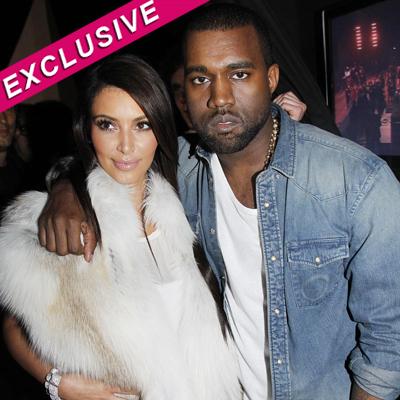 Things are heating up at a breakneck speed for Kim Kardashian and Kanye West, with wedding talk already on the table for the new lovebirds, but will Kim walk down the aisle a second time on camera? Yes, if her momager Kris Jenner has anything to do with it, RadarOnline.com is exclusively reporting.
Kim has already backtracked on her vow to keep her romantic relationships private, enjoying a PDA packed night with the hip hop mogul last week, all caught on camera for her reality show, and now it looks like history will be repeating itself again, as Kim considers putting yet another wedding out there for all to see.
Article continues below advertisement
"Kris Jenner is ecstatic that Kim is dating Kanye; she can see their celebrity stock and wealth rising by the day," a source close to the Kardashians tells RadarOnline.com. "She is pushing hard for Kim to get her claws into Kanye and would love it if he proposed. She has already told Kim that if they make it down the aisle they are going to do it on camera again; there's just too much money to be made for Kris to allow this to be done privately.
"You would think most moms would be keen for their daughter to take it slow, especially seeing as Kim's divorce still isn't finalized from the last fiasco. But, Kris just marks Kris Humphries down as a major mistake to be forgotten and is eager for Kim to move on to bigger and better things, which, she believes, Kanye definitely is."
As RadarOnline.com previously reported, Kim, 31, and Kanye, 34, "are talking marriage."
Article continues below advertisement
Things between the All of the Lights singer and the E! star are getting "very serious," sources told US Weekly adding they're close to picking out rings.
"She wants to be with him as much as possible," a source told the magazine. "They really know and love each other."
RELATED STORIES:
Hilarious Video! Three Grandmas 'Critique' Kim Kardashian Sex Tape
Kris Humphries To Kim Kardashian: Did You Forget Our $325k Ferrari Wedding Gift?