Kourtney Kardashian's Bumptastic Day Out With Her Son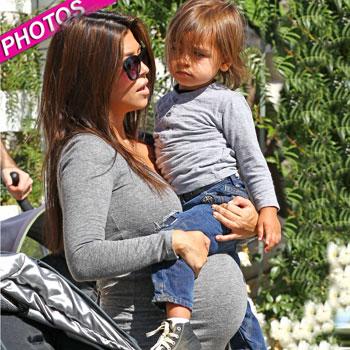 Now that's a 'bumpy' ride!
Kourtney Kardashian put her burgeoning baby bump to good use as she balanced her little boy Mason on it while carrying him around.
The reality TV beauty is expecting her second baby with longtime boyfriend, Scott Disick, this summer, but she isn't letting her pregnancy slow her down.
Showing off her curves in a tight grey dress Kourtney had color co-ordinated her son's look with hers.
Article continues below advertisement
The 33-year-old, who has clearly mastered the art of multi-tasking, was enjoying her mom-and-son time in Los Angeles on Saturday.
While she's been traveling a lot for work, Kim Kardashian's older sis will be staying put in Los Angeles now as she prepares for the birth of her baby.
"No more flying for me for a long time and very excited about it," she wrote on the social networking site. "LA and I are going to get very cuddly together."