Bad Boy Bachelor! Juan Pablo Rants Rudely To Host Chris Harrison, Refuses To Tell Nikki He Loves Her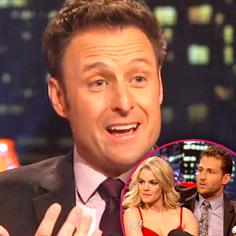 Article continues below advertisement
Not only that, the bizarro Don Juan also took issue with Harrison even asking him about it.
Viewers saw Juan Pablo, 32, tell Nikki, 26, that he "liked" her a lot at the end of The Bachelor finale episode, but he wasn't going to propose because he wasn't 100 percent sure, he admitted to Nikki.
The fractured fairy tale ended with the two kissing, and they appeared together on After the Final Rose to let fans know they are still dating.
But how serious is it? After Nikki told the longtime Bachelor host how much she loved Juan Pablo, Harrison pressed him if HE loved her.
"I'm not going to answer that question," the reality star said. "People don't understand that this is real life ... we're very happy, we're done with the show.
"We are so done. We are happy we had the opportunity. We're doing great. I feel fantastic about this woman."
Article continues below advertisement
But he deflected all of Harrison's efforts to get him to say three magic words to Nikki: "I love you."
Juan Pablo impatiently said Harrison kept interrupting and was "boxing" with him.
Previous Bachelor Sean Lowe who was in the audience, chimed in and said, "When I'm in love, I want that person to know it. But to each their own."
Harrison, however, told Juan Pablo now was the the time to let the love shine.
"I don't know what I'm looking at," he said about his coupling with Nikki. "It's so awkward. We can't have a conversation."
Nikki told Chris, "It doesn't matter if we say we are or we aren't in love. Time will tell. This is a real relationship to us."
She also emphasized that because Juan Pablo has a daughter, Camila, 5, he's right to be cautious.
However, Harrison asked Nikki how long she would give him to express his love and she replied, "Once it doesn't feel right, I'm going to be out."
Article continues below advertisement
Juan said of the relationship, "We want to keep it private."
When Lowe pointed out to him that no Bachelor love affair is ever private, even once the show is done -- and Lowe's wife Catherine Giudici said, "Don't slap the hand that fed you" -- Juan Pablo shrugged, "It doesn't matter."
Meanwhile, show runner up Clare Crawley, who had revealed on the finale that Juan Pablo had offended her with a crude sexual comment, also appeared on After the Final Rose, telling Harrison it was hard watching the finale episode it which he both insulted and rejected her.
Watch the video on RadarOnline.com
"I think that's the day that every woman waits for, that you get engaged," Clare recalled of her hopes. "He hadn't led me to believe otherwise."
But before she got the final boot, Juan Pablo had told her he loved hooking up with her.
"It definitely caught me off guard and it's not something I want to repeat. It's disappointing. You don't want to hear that," she told Harrison and the ABC studio audience. "I was completely caught off-guard. Feelings are being developed and it was such a let down to hear that.
Article continues below advertisement
"I went into this with rose-colored glasses."
Clare admitted after his comment , "I should have left," but she still believed Juan Pablo was serious about finding love and marriage.
However, Clare said he "was not the man I thought he was."
She told Harrison she didn't want to speak with Juan Pablo on After the Final Rose -- because she'd said all she needed to in dissing him after his rejection.
Clare had fumed at Juan Pablo that she would never want her children having a father like him!
"That day was pivotal for me because I'd never been able to stand up to myself with a man before," she confided.
"It was so liberating to stand there and say every single word how I felt, that was my closure. That was all I needed," she added as the audience clapped approval.
That Was Quick! 25 Of Hollywood's All-Time Shortest Marriages
"I don't want to sit here on this couch and get fed anymore BS!" Clare added.
Article continues below advertisement
Later, when Harrison asked Juan Pablo about Clare, he said, "We had a roller coaster, it worked out the way it worked out."
He wouldn't talk about the alleged crude comment he made to her, saying, "Nothing is going to come out of my mouth."
When Harrison asked if he had any regrets about Clare, Juan Pablo frowned, "Why should I have a regret? I had to make a decision that was best for me."
Waiting At The Altar — 38 Hollywood Weddings That Were Called Off
Then final pick Nikki told Harrison in a one-on-one chat that she didn't know if he loved her!
"I hope so. I think we express things very differently," the pediatric nurse said, indicating his actions spoke louder than words
Although Harrison had promised viewers earlier that Juan Pablo had a big surprise to share with fans, Juan Pablo said there was no surprise.
Instead, it was just vague talk about being with Nikki after a four-month secret relationship since the show was filmed.
"We're going to start today to be ourselves," he vowed.
At the end of the show, Atlanta assistant district attorney Andi Dorfman, who definitely didn't find love with Juan Pablo, was announced as the next Bachelorette.
"If you fall in love, don't be afraid to say that," Harrison advised her, in a sarcastic final slap at Juan Pablo!