'Bachelor' Juan Pablo Is 'Shameless' & 'Hypocritical,' Slams Ex-'Bachelorette' Villain Kalon McMahon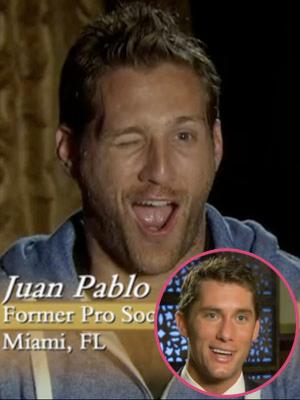 Former Bachelorette villain Kalon McMahon knows how to stir up drama and controversy for TV, so it should come as no surprise that he thinks the current Bachelor Juan Pablo Galavis is pretty "dull."
Speaking exclusively to RadarOnline.com, McMahon -- who appeared on Emily Maynard's season – had plenty to say about ABC's new leading man.
"I've heard he's a nice, genuine guy, but he isn't interesting or engaging. Now the show is just make out scenes and implied sex scenes," McMahon told RadarOnline.com of the former Venezuelan soccer player and single dad.
Article continues below advertisement
"It's painful to watch him with these girls. I think he's incapable of stepping out of the superficial conversation -- and I don't know if that's because English is his second language, or he's just an idiot soccer player."
While the ladies may have their reasons, what does McMahon have against Juan Pablo?
"I respect him. He's a single dad, but that seemed to take a backseat once he started having chemistry with these girls. Perhaps it is editing, but he seems hypocritical saying he doesn't want his daughter to see him doing these things – and then there are very implied sex scenes. His daughter is across the country, so I guess, out of sight, out of mind, right?" he noted.
Juan Pablo came off as a self-serving playboy after one contestant called the overnight "Fantasy Suite" dates a "nightmare," on Tuesday's special Bachelor episode.
"Juan Pablo hasn't done anything different than the previous Bachelors, but maybe he's just a little more shameless – and naive about editing," McMahon said.
McMahon, who knows from experience how quickly a good person can be turned into a villain with some tricky editing, weighed in on how Juan Pablo has been portrayed this season.
"The producers on this show are brilliant. The show isn't scripted. It's real. It's just that producers are always in your ear feeding ideas to groom you into who they want you to be – and I think Juan Pablo fell victim to that," he said.
What do you think of Galavis' intentions and actions on the hit ABC show? Sound off in comments below…