Joan Rivers Says Gwyneth Paltrow Has 'Stick Up Her Rear End,' Mocks 'Most Beautiful Woman' Designation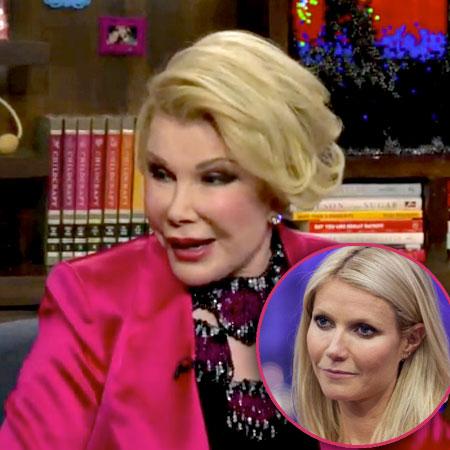 Joan Rivers, appearing on Wednesday's Watch What Happens Live, had some harsh jabs for one Gwyneth Paltrow, after recalling a tantrum the actress threw after she was mocked on Rivers' program, Fashion Police.
"She came in and yelled at us — she stood up — she can't sit down because she's got a stick up her rear end," Rivers recalled.
Adding a little mustard on the hot dog, Rivers then mocked People magazine's naming Paltrow "The World's Most Beautiful Woman" last year by repeating the title with air quotes around it.
Article continues below advertisement
Paltrow might have launched the first missile in this celeb feud last year, in mocking the comic's admitted penchant for plastic surgery.
"I'll try anything except I won't do Botox again, because I looked crazy," the Country Strong star said in a Harper's Bazaar piece. "I looked like Joan Rivers!"