No Underwear? No Problem! 'World's Most Beautiful Woman' Gwyneth Paltrow Dares To Bare At Iron Man 3 Premiere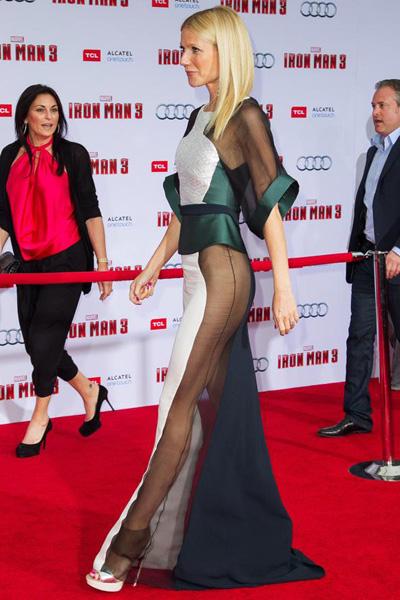 Fresh off of being crowned "The World's Most Beautiful Woman," Gwyneth Paltrow turned heads Wednesday night at the Hollywood premiere of Iron Man 3 with a dress that looked conservative from the front – but revealed a super shear side view that showed she wasn't wearing any underwear!
The Oscar winner's eye-popping red carpet appearance came just hours after People named her "Most Beautiful," following in the (high) heels of superstar Beyonce, who previously was awarded the honor.
Article continues below advertisement
"I honestly thought someone was playing a joke on me," Paltrow, 40, told People upon learning of the honor. "I had to reread the e-mail three times. I was like, 'This can't be true, I've developed dyslexia -- I'm not reading this right.' It's a very iconic cover in American culture, so it's just amazing."
And although some skeptics have questioned whether Paltrow is in fact "Most Beautiful," as RadarOnline.com previously reported, she also continues to face criticism after collaborating on a string bikini line for children that she is selling on her GOOP website, which one expert says sexualizes little girls and inevitably promotes eating disorders.
The Melissa Odabash for GOOP "exclusive kids new york bikini set," retails for $45 and the skimpy string bikini is modeled by a little girl, striking a mature pose, on the GOOP website.
"This kind of sexualized children's bikini line is not in girls' best interest," Eating Disorder Specialist and Cognitive Behavioral Therapist Dr. Carol Fishbein, Ph.D. tells RadarOnline.com exclusively about the sexy swimsuits.
"We are sexualizing young, innocent children, before they will know how to protect themselves or be fully aware of what could be happening to them. With verbal comments, lewd looks or even worse."
Paltrow has yet to publicly comment on the criticism.