Exclusive
Gwyneth Paltrow Slammed For Designing String Bikinis For Little Girls, 'Sexualizes Young, Innocent Children,' Says Expert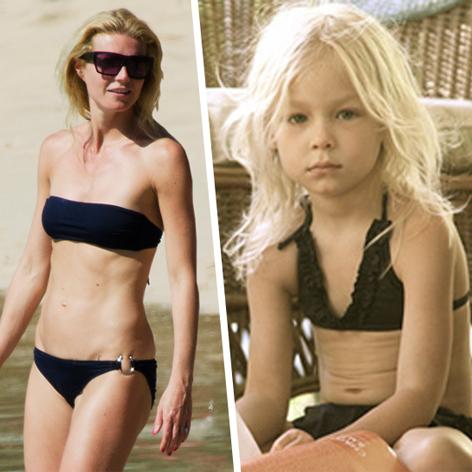 Gwyneth Paltrow is under fire again!
The Academy Award winning actress, who has been blasted for everything lately from the strict diet she has her kids on to her fancy new cookbook with ridiculously expensive ingredients, is in hot water again after collaborating on a string bikini line for children that she is selling on her GOOP website, which one expert exclusively tells RadarOnline.com sexualizes little girls and inevitably promotes eating disorders.
Article continues below advertisement
The Melissa Odabash for GOOP "exclusive kids new york bikini set," retails for $45 and the skimpy string bikini is modeled by a little girl, striking a mature pose, on the GOOP website.
"This kind of sexualized children's bikini line is not in girls' best interest," Eating Disorder Specialist and Cognitive Behavioral Therapist Dr. Carol Fishbein, Ph.D. tells RadarOnline.com exclusively about the sexy swimsuits.
"We are sexualizing young, innocent children, before they will know how to protect themselves or be fully aware of what could be happening to them. With verbal comments, lewd looks or even worse."
Fishbein specifies that the fact the bikinis are held together by strings is extremely disturbing in itself, because they not only promote eating disorders, but they keep children from getting to engage in normal beach activities and enjoying the innocence of their youth.
Article continues below advertisement
"These kinds of bathing suits promote low self-esteem, negative body image and eating disorders, because of the focus on the appearance of a young girl and keeping her restricted from being able to run around and enjoy the health and power of her own body through running and splashing in the water, jumping, doing somersaults and headstands," she says.
"These bikinis are tied together with flimsy strings that easily open, contributing to a girl having to check and recheck her skimpy sexualized clothing rather than enjoying her power and her body," the therapist adds.
As girls will inevitably be sexualized later on in their youth, she firmly believes that it is a parent's duty to protect them when they are still very young.
"Parents should make clothing choices that protect the innocence of their children. These bathing suits call attention to sexuality and this will get in the way of children enjoying the joy of their bodies as innocent, protected children, which they are more entitled to. Sexy chic will be upon them soon enough, but at age 4 if we can't protect, then what is wrong with us?"
Article continues below advertisement
WATCH: Gwyneth Paltrow & Robert Downey, Jr. In Iron Man 3 Trailer
Instead of focusing on how a little girl looks, parents should focus more on who she is as a person, Dr. Fishbein suggests.
"What we want is for young girls to have fun in their life and develop their athletic abilities, recognize the ability to develop friendships and close relationships within their family; to have school and personality achievements and not to have their values centered on their appearance or sexuality, especially at such a young age."
Do you think Gwyneth Paltrow -- who is the mother of an eight-year-old daughter, Apple -- went too far with collaborating on string bikinis for young girls? Sound off below.