Gwyneth Paltrow's Strict Diet Rules Leave Kids 'With That Specific Hunger'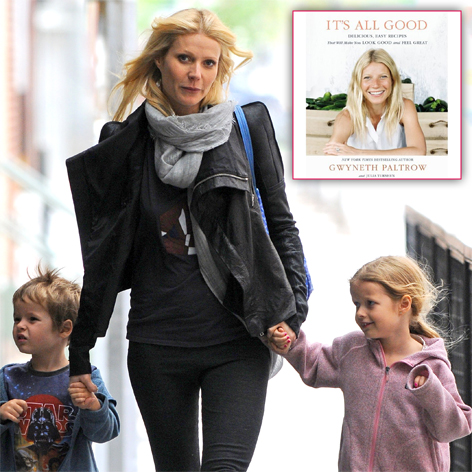 Gwyneth Paltrow's strict diet is so draconian that even she admits sometimes her family is left with hunger pangs by the restrictions she places on their food!
The mother of two has penned a new cookbook titled It's All Good where she details the food she doesn't allow her children, Apple and Moses Martin, to eat.
She begins her writings about "grains" by nothing that "every single nutritionist, doctor and health-conscious person I have ever come across . . . seems to concur that gluten is tough on the system and many of us are at best intolerant of it and at worst allergic to it."
Article continues below advertisement
Gwyneth, 40, says the diet may not be the most satisfying for her children.
"Sometimes when my family is not eating pasta, bread or processed grains like white rice, we're left with that specific hunger that comes with avoiding carbs."
The Oscar winner reveals a health scare she had that caused her to change her already fairly limited diet.
"One sunny afternoon in London, in the spring of 2011, I thought — without sounding overly dramatic — that I was going to die," Gwyneth recalled.
"I had just served lunch in the garden at home . . . I had a vague feeling that I was going to faint, and I wasn't forming thoughts correctly . . . I got a searing pain in my head, I couldn't speak, and I felt as if I couldn't breathe. I thought I was having a stroke."
She found out that it was a migraine and a panic attack, and shares the recipes from the diet her doctor put her on for three weeks to "clear out her system, heal her gut and revive her body."
It's All Good is available in bookstores on April 2.