Shady in St Lucia! Gwyneth Paltrow Shares Rare Snaps Of Her Rock Star Spawn, Apple & Moses Martin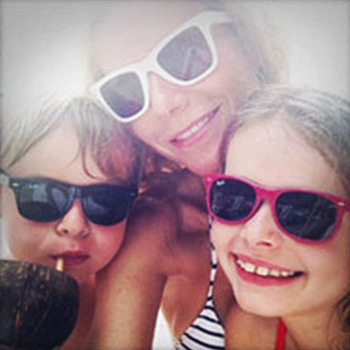 When your mom is pure bred Hollywood royalty and your dad a bonafide rock star, it's no surprise you start donning the celebrity prerequisite sunglasses at a very, very young age!
Gwyneth Paltrow shared some rare family snaps on her blog Thursday, including a super cute pic of her, daughter Apple, 8, and son, Moses, 6, maintaining their A-list family status, clad in matching Ray Ban sunglasses and RadarOnline.com has the photos.
Article continues below advertisement
Coldplay frontman, Chris Martin, Gwyneth's husband of almost a decade decided to skip the snap session, but his kids were clearly enjoying their mommy and me time.
In the adorable pic, Apple's super cute gappy toothed grin leaves her Oscar winning mom in the shade, however, it didn't upstage her brother who appeared to be channelling his super-cool dad, as he sipped nonchalantly on a straw dipped in a giant coconut.
Thankfully though, Moses, or "Mosey" as mom calls him, isn't fully embracing the rock and roll lifestyle just yet!
Paltrow, 40, was quick to point out to fans that: "No, that's not a pina colada" he was sipping on!
The Paltrow-Martins were enjoying some R & R at a luxury resort in St. Lucia, and the beautiful locale and laid back Caribbean vibe appeared to open up the usually private and protective mother, as she posted several candid shots of the kids.
Article continues below advertisement
But, all good things must come to an end, even for Gwyneth Paltrow. The actress is now back in the real world (well…. kind of), lamenting: "We are just back from an amazing (and sadly short) holiday at Sugar Beach- A Viceroy Resort in St Lucia. It was heaven."
And, it clearly didn't take Paltrow long to get back to the grind. In addition to her family album, the health conscious mom also shared some diet, food advice and recipes with her loyal followers.
"Happy 2013! I am not on a detox. I am not on a diet. I know, New Year's cleansing and all that. Not this year. Can't do it. Maybe later in the year. Maybe in the spring," she wrote. "So for now, I would like to continue with my pasta and cheese, but perhaps be more mindful of ingredients. I asked my friend Dr. Frank Lipman about his list of superfoods so that I could incorporate them into my diet a bit more. If you are going to eat pasta, why not serve it with a walnut pesto (walnuts are on his list)? You get my point. We had great fun in the goop test kitchen coming up with these ways to incorporate these miraculous foods into very tasty recipes. We hope you enjoy."