Gwyneth Paltrow Reveals That She Cries All The Time 'Out Of Sadness Or Uncertainty'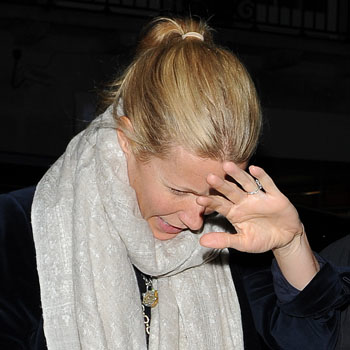 Cry us a river!
She may be an Academy Award winning actress married to one of the biggest rock stars in the world and have two gorgeous children, but Gwyneth Paltrow still has a lot to sob over.
In a new interview with InStyle, the 39-year-old actress reveals that she is in therapy and that she cries all the time, and RadarOnline.com has the details.
"You can call my shrink on that one," she candidly responds to a question about why she works so hard. "The positive thing that drives me is a curiosity and momentum. The negative is a need to validate myself or feel special. Like a childhood need to differentiate myself or…"
Article continues below advertisement
Gwyneth, who also talks about her postpartum depression in the interview conducted by her fashion designer pal Diane von Furstenberg, continues her sob story.
"I cry all the time," she admits. "I cried half an hour ago. I'm a crybaby!"
When asked if she cried out of happiness or frustration, she candidly responds on the darker side.
"Maybe out of sadness or uncertainty. Do you feel bad for me now?"
RELATED STORIES: