Exclusive
Gwyneth Paltrow Was Chris Martin's 'Yoko Ono'! Coldplay Bandmates Compared Her 'Interference' To Hated Beatles Wife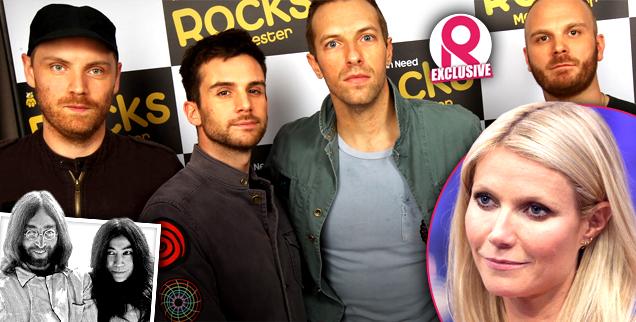 In the latest divorce revelation, RadarOnline.com has exclusively learned Chris Martin's Coldplay bandmates compared Gwyneth Paltrow to Yoko Ono!
According to a well-placed source, Paltrow "interfered" so much with Martin and his band that she was likened to Ono, who famously was accused of breaking up the Beatles after she married John Lennon (a charge Ono has always denied).
"The members of Coldplay loathed Gwyneth because she guilted Chris into moving to California in a last-ditch attempt to save the relationship," the source told RadarOnline.com.
Article continues below advertisement
And during the ten year marriage, "Gwyneth never made any attempt to bond with Chris' band members, who also happen to be his best friends.
REVEALED: The Top 30 Secrets & Scandals Gwyneth Paltrow Doesn't Want You — Or 'Vanity Fair' To Know About
"In particular, guitarist Johnny Buckland and his wife, Chloe, had hoped to become closer couples friends with Gwyneth and Chris after they had their own two children, but it never happened," the source said. "Gwyneth just couldn't be bothered because she would rather hang out with her other famous London friends including fashion designer Stella McCartney. It was clear that Gwyneth viewed Chris' life with the band completely separate from her world, and she very much wanted it that way.
"Of course she would show up to Coldplay concerts, but would hardly ever pop by the recording studio to say hello, or just hang out," the source close to the band told RadarOnline.com.
The actress and the Coldplay frontman announced their plans to "consciously uncouple" on Gwyneth's website, Goop.com website on Tuesday.
RadarOnline.com broke the story: that Martin had been miserable since leaving London for sunny SoCal, where Paltrow wanted to live.
Article continues below advertisement
Prior to the separation announcement, Martin told Paltrow he had wanted to move back to England with the kids once the school year was over, sources said.
"He hasn't been happy living in Los Angeles because Chris just isn't into the Hollywood scene. Since moving to L.A., Chris has been away from the band, and he has essentially put his career on the back burner," a source previously told us.
Paltrow also took issue with "Chris going on tour with the band so much. She always made him feel guilty and said she was stuck at home with the kids while Chris was off seeing the world. But this is his job, Gwyneth knew she was marrying a rock star, and what did she expect him to do?" the source added.
Coldplay has toured almost non-stop since 2008, with the Viva la Vida Tour, Mylo Xyloto Tour which ran from 2011-2012. The band is expected to tour to promote their new album Ghost Stories which will be released in May.
Martin's marital woes "have definitely helped to contribute to some great songs and other great material. The upcoming album Ghost Stories will definitely lament this transition period in Chris' life," the source said.
Article continues below advertisement
Known for her shockingly elitist statements, Paltrow hasn't changed, recently saying that her job as a high paid actress (with a slew of assistants, a publicist, agent etc.) makes her life much more challenging than other moms.
"I think it's different when you have an office job, because it's routine and, you know, you can do all the stuff in the morning and then you come home in the evening," Paltrow claimed. "When you're shooting a movie, they're like, 'We need you to go to Wisconsin for two weeks,' and then you work 14 hours a day and that part of it is very difficult. I think to have a regular job and be a mom is not as, of course there are challenges, but it's not like being on set."
Our source says Gwyneth's "insensitive and out of touch comments about being a working mother in Hollywood goes to the heart of the issues the band had with Gwyneth. They were always VERY respectful of the relationship, and really held their tongues about what they truly thought about her. With that being said, they know Chris isn't a saint, but he is their brother, and will support him during this time. He will be just fine."