Gwyneth Paltrow Slams Her Own Botox, Says She 'Looked Like Joan Rivers!'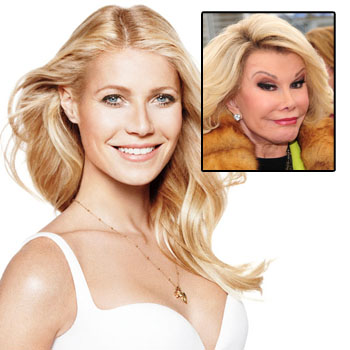 Gwyneth Paltrow works hard to stay young looking now that she's 40, but when she spoke about her own past Botox use she slammed the way she looked and compared herself to Joan Rivers!
The mother of two said that while she is "scared to go under the knife," she's not ruling everything out on her eternal quest for a youthful face.
"I'll try anything," Gwyneth told Harper's Bazaar magazine in the May issue.
Article continues below advertisement
"Except I won't do Botox again, because I looked crazy."
Then Gwyneth let loose with the zinger at the E! Fashion Police host and comedienne.
"I looked like Joan Rivers!" she said about the 79-year-old who has had multiple plastic surgery operations on her face.
Do you think Gwyneth should be afraid of Joan's response to her slam? Tell us in comments.