Hollywood's Worst Kept Secret — 'Sexually-Fueled Pool Parties': The 7 Latest Developments In Bryan Singer Teen Abuse Lawsuit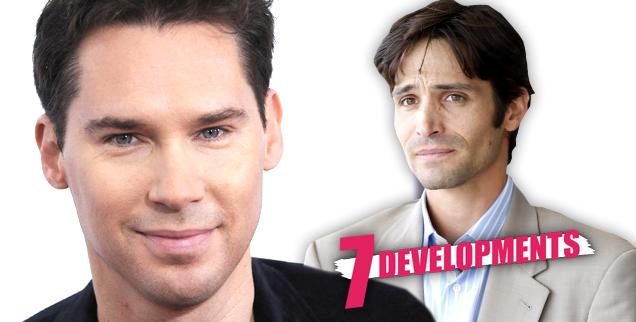 We've got all the latest developments in the scandal surrounding Bryan Singer, the director behind the blockbuster X-Men franchise who was accused, in a newly-filed suit, of sexually abusing of a then-underage Hollywood hopeful named Michael Egan III 15 years back.
As we previously reported, the actor/model Egan said in the suit filed Wednesday that in 1999, the now-48-year-old filmmaker coerced him into attending sex-and-drug-fueled parties in California and Hawaii — where he said he was looked upon as "a piece of meat" by the powerful guests in attendance — and proceed to violate him orally and anally at the events.
Article continues below advertisement
Clash Of The Titans
One peripheral storyline in this complicated situation involves the two powerhouse legal forces on a collision course: for the plaintiff, Jeff Herman, the Boca Raton, Fla. attorney with a history of representing sex abuse victims -- including a case in which he won a $100 million judgement against a Catholic priest implicated of serial-raping dozens of young boys. And in the other corner, Marty Singer, the attorney-to-the-stars who has represented A-listers such as Sylvester Stallone, Charlie Sheen, Quentin Tarantino and John Travolta, among others. The lawyer, who is no relation to the director he's representing, said Egan "completely fabricated" his accusations about the filmmaker and their experiences in 1999. He added, "We look forward to our bringing a claim for malicious prosecution against Mr. Egan and his attorney after we prevail."
Exposing An Epidemic — Or Seeking His '15 Minutes Of Fame?'
Herman Thursday vowed that the Singer suit would be "the first of many cases I will be filing to give these victims of high-powered show business sex predators a voice and to expose the issue," but Marty Singer implied his rival had an ulterior motive in his representation of Egan: getting famous. Following the news conference Egan and Herman held Thursday, Singer claimed that the limelight is Herman's main motivation in representing the accuser in the budding Hollywood scandal. He told The Hollywood Reporter, "It is obvious that plaintiff's attorney is not looking to litigate the case on its merits. This matter is nothing more than the attorney seeking to get his 15 minutes of fame by sending out a press release with his 'media consultant' yesterday and following up with a press conference today. Attorneys who try cases don't hold press conferences."
Article continues below advertisement
The Craziest & Most Outrageous Celebrity Rumors — What's True, What's Not?
Delayed Reaction?
With many wondering why accusations were coming 15 years after the time of the alleged incident, Egan at his news conference on Thursday said his mother initially reported the alleged wrongdoings to both FBI and L.A.P.D. authorities in 1999, and follow-up interviews took place. Los Angeles Police Commander Andrew Smith said investigators are auditing their archives to see what they have on it, while FBI spokeswoman Laura Eimiller, citing privacy laws, declined to get into specifics, but did defend the bureau's response protocols to sex crime accusations. She said, that "the suggestion that the FBI ignored a minor victim, or evidence involving the sexual victimization of a child, is ludicrous," and that "the FBI vigorously pursues all allegations involving the sexual abuse of minors and pursues prosecution when evidence of such crimes is brought to its attention."
2000 Lawsuit
Egan did take legal action regarding the aforementioned accusations in a 2000 lawsuit in Los Angeles Superior Court, according to The Hollywood Reporter, but did not list Singer as one of the people who he said sexually abused him. In the initial court papers, Egan said that the incidents took place at an Encino mansion shared by Chad Shackley and Marc Collins-Rector, a registered sex offender and admitted child trafficker. The director's lawyer Marty Singer addressed the initial legal move in a chat with the publication, saying that "if Bryan had done anything wrong, he would have been included in the previous lawsuit."
Article continues below advertisement
Immediate Fallout
The X-Men director has cancelled an appearance at Wondercon, a film and comic convention set to run this weekend in Anaheim, Calif., Deadline.com reported. Singer was slated to promote his upcoming flick X-Men: Days of Future Past, and field questions on the highly-anticipated summer blockbuster. The outlet said that Singer's name has also been removed from the promos for Black Box, a forthcoming ABC drama he's executive producing. There's been no word on future handling of Battle Creek, a CBS drama he's worked on which premieres this autumn. X-Men studio 20th Century Fox issued a statement Thursday calling Egan's allegations "serious," and noted that "they will be resolved in the appropriate forum." The studio went on to say, "This is a personal matter, which Bryan Singer and his representatives are addressing separately."
It's A Small World After All
In the wake of the accusations, many images of Singer at numerous parties, get-togethers and social functions have sprouted up. One featured a familiar face in the form River Viiperi, the 22-year-old Spanish model best known for his romance with Paris Hilton, who sat a long table for a group dinner attended by Singer and nearly a dozen other men. Last month, Hilton told our friends at OK! that she's happy in the relationship with the model, who's 11 years her junior, as he "does sweet things all the time."
Article continues below advertisement
TGIT?
According to online reports, the revelrous, sexually-fueled pool parties Egan described in both court papers and at his news conferences are one of Hollywood's worst kept secrets, with a guest list often consisting of older show biz power brokers and youngish teenage boys culled from a time-tested selection process that starts on the nightclub circuit in West Hollywood and Hollywood each Thursday. At the 18-and-up parties, collaborators get the phone numbers of the youngish looking attendees, who are subsequently invited to weekend parties where sex is common, behind closed doors or in full display of the others.