Bryan Singer's Accuser Claims He 'Was Like A Piece Of Meat' To The 'X-Men' Producer; Says Sex Ring Boasted 'We Control Hollywood… We Can Eliminate You'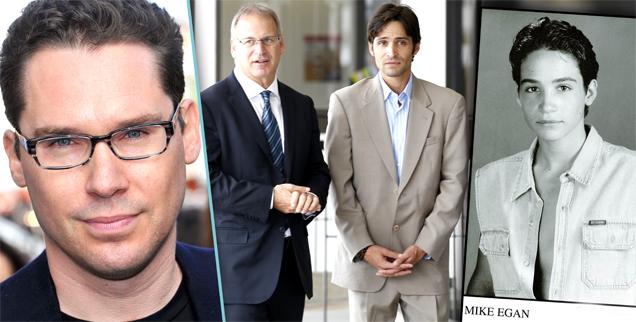 31-year-old man has filed a lawsuit against X-Men director Bryan Singer, alleging sexual abuse when he was a teenager and in a press conference held on Thursday, Michael F. Egan III said he was "a piece of meat to these people."
Sixteen years after the alleged "nightmare" began, Egan went public at a media conference in Beverly Hills, Calif., alongside his attorney Jeff Herman where he repeated his court claim that Singer and other men were forced on him using physical force, alcohol and cocaine when he was between the ages of 15 and 17.
Article continues below advertisement
"I was raped numerous times in that house, by numerous individuals. You were like a piece of meat to these people," Egan said on Thursday.
"If I could define what that house was – it was evil."
Egan also claims that after the alleged incident he and his mother went to both the LAPD and the FBI to report it, but that "it basically fell on deaf ears."
"I can stand in front of you all today and say I am a survivor of childhood sexual abuse," he told media.
In his lawsuit, a copy of which RadarOnline.com has obtained, Egan states the drug and sex fueled parties were held at a home in Encino, Calif., owned by Marc Collins-Rector and Chad Shackley.
"We can look at it a lot differently as adults, but when you have a gun put in your mouth and you believe that they'll pull the trigger on you at any time, do you not listen to what they are telling you to do?" Egan said at the press conference.
Article continues below advertisement
Collins-Rector is mentioned in the lawsuit but not named as a defendant — Egan claims Collins-Rector threatened him with a gun and sexually abused him.
The Craziest & Most Outrageous Celebrity Rumors — What's True, What's Not?
Collins-Rector is a businessman who was accused of sexually abusing children by coercing them with drugs and guns, and in 2004 he pled guilty to eight charges of child enticement and registered as a sex offender.
Egan claims the offenders threatened his family if he didn't participate in the sexual acts.
"They said, 'If you don't keep the members of this group happy, we control Hollywood. We can eliminate you, we will eliminate you,'" he said.
Shocking Stories You Didn't Believe But Turned Out To Be True
"It was threat after threat after threat."
During a particular incident in Hawaii, Egan charges in court papers that Singer, now 48, supplied him with drugs and alcohol and forced him to snort cocaine, followed by repeated rapes.
Article continues below advertisement
RadarOnline.com previously reported on the alleged sex abuse scandal, revealing that there will be "several high profile actors that will be tied to the sex scandal as a result of the lawsuit," according to sources.
"The actors won't be accused of any illegal wrongdoing," the source notes, "but several are allegedly eyewitnesses to some of the activity outlined in the civil complaint against the director. At least one of the names will be shocking. The young actor's fans will be stunned to know he was at one of these infamous parties that Bryan allegedly attended and/or organized."
Singer's attorney, Hollywood legal eagle Marty Singer, has vehemently denied the Hollywood film figure is guilty of the man's claims.
In a statement, he said: "The claims made against Bryan Singer are completely without merit. We are very confident that Bryan will be vindicated in this absurd and defamatory lawsuit."
"It is obvious that this case was filed in an attempt to get publicity at the time when Bryan's new movie (X-Men: Days of Future Past) is about to open in a few weeks," he said.
Fox, the studio behind Singer's latest flick, Days of Future Past, issued a statement, saying, "These are serious allegations, and they will be resolved in the appropriate forum. This is a personal matter, which Bryan Singer and his representatives are addressing separately."