Jason Lee's Ex RIPS Church & Accuses Members Of Stalking & More In Shocking Piece –– Says 'Cult' Built On 'A Foundation Of Violence'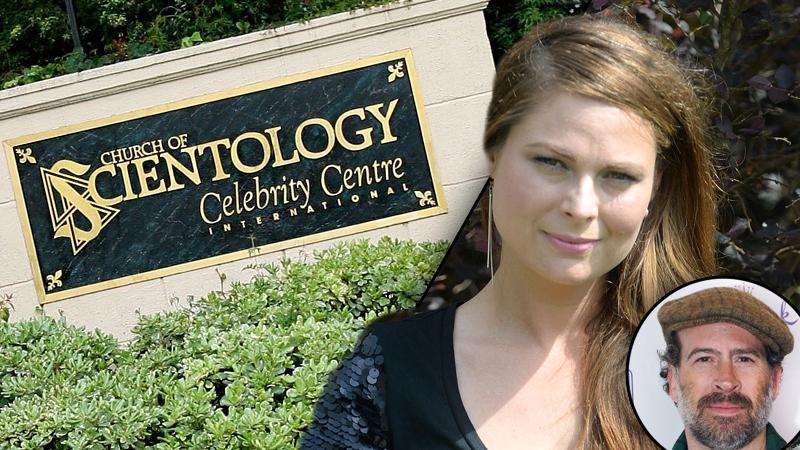 Actor Jason Lee's ex wife Carmen Llywelyn is the latest ex-Scientologist to denounce the church, explaining the reasons she left in a thorough essay for the website Gawker.
The 41-year-old actress -- who spoke with RadarOnline in a set of exclusive interviews last year prior to her piece for Gawker -- who's appeared in films such as Chasing Amy, Never Been Kissed and Jay and Silent Bob Strike Back, said she's "spent the last 13 years keeping Scientology out of my life" after an eight-year stint in the church in which she was "heavily indoctrinated."
Article continues below advertisement
The religion is built on "a foundation of violence," Llywelyn said, adding opposers are silenced with threats of "retribution and humiliation."
In joining the church as result of her relationship with Lee, Llywelyn said she "lost all sense of individual identity in the name of the cult," seduced by a group of famous, successful and well-educated Scientologists.
Llywelyn, who was married to the My Name Is Earl star from 1995 until 2001, said that she "started to feel like Lee was forcing Scientology on me, past the point where I didn't want to go any further," as he "would never stop talking about it."
Watch the video on RadarOnline.com
The church eventually "became a source of contention" in their relationship, and Llywelyn said she "realized that unless I accepted Scientology the way he did and the way he wanted me to, we would most likely cease" communicating.
Llywelyn said that on her first trip to the Celebrity Centre with Lee, she "got a horrible feeling in my stomach" as she took in her surroundings, claiming it was "unnerving to know that my reaction to what was happening could be a dealbreaker in our relationship."
Article continues below advertisement
Llywelyn said she was taken aback by the heavy expenses, both money and time-wise, associated with the church. She said her starting costs to become a member "added up to more than $50,000," not counting untold thousands in other expenses and solicited donations.
Watch the video on RadarOnline.com
"To me, Scientology seemed more of a surreal lifestyle for the privileged than a kind of belief system," Llywelyn said.
She said that once she started getting immersed in the church, she was taken aback by the authoritative non-communication the church fostered between its participants.
"It's more like being talked at," she said, describing the process as talking to a "person in a commanding way and not offering them a chance to reply."
Watch the video on RadarOnline.com
She cited show biz figures Jenna Elfman as having talked her to as such, once she was deemed a "Suppressive Person" -- a label the church gives to outcasts and dissidents, which she described as "the worst thing you can be in Scientology."
Article continues below advertisement
Llywelyn said that any voicing opposing thoughts would immediately maker her an outcast: "You'd never think that speaking your mind could get you in that much trouble, but if you knew what the average Scientologist's perspective was on friendships you'd understand.
"In Scientology, your friend can become your worst enemy overnight."
She said that "a very cold encounter" with the former Dharma and Greg star -- who helped marry her and Lee -- illustrated the disconnection church members have with ex-Scientologists.
"She walked up to me and said 'Hi' and stared in my face for a second in a semi-confrontational way. I was shocked for a second but said hello, how are you, thinking it was going to be a normal conversation."
Watch the video on RadarOnline.com
She said that Elfman chided her about church-related issues, before walking "off without saying goodbye."
Her full estrangement with the church and its members came after she told a fellow church member she read an anti-Scientology book called A Piece of Blue Sky. She said she received "disconnection letters" from both Lee and her manager, effectively ending their relationships.
Article continues below advertisement
She said that she became the victim of an ongoing character assassination attempt concocted by the church's Office of Special Affairs, "which is essentially a complex system dedicated to ruining the lives of those it sees as enemies in any way possible" -- including illegal activity, as "Scientologists have no boundaries and their cruelties exclude no one.
She said she found that church officials "skirt the law and use methods like electronic surveillance and cell phones to monitor a person's every word and every move.
"I got followed all the time. People in public would loudly discuss a conversation I had just had in private, word for word. Similar things occurred on social media."
Llywelyn said she's living a happy life in the South and has been in a relationship for the past 12 years, which has produced 11-years-old twins.
"We all watched Going Clear together and they've told me how glad they are to not be Scientologists," she wrote of the anti-Scientology doc. "And that makes me happy."