Exclusive
Celebrity Bully? Former Scientologist Claims Jenna Elfman Confronted Her Over Leaving The Church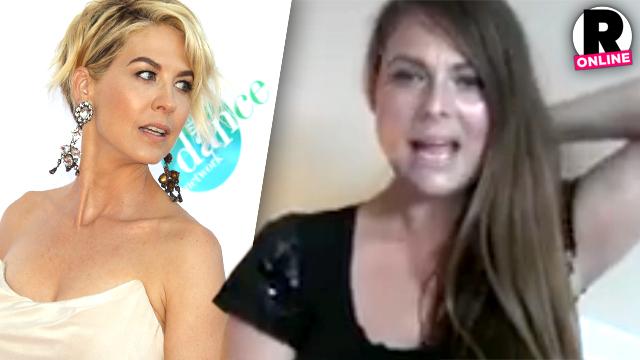 Scientologist stars like John Travolta, Tom Cruise, and Kirstie Alley often get the celebrity treatment even within the walls of the church, with prime seating at annual events, and photo placement on church literature. But even within that rarefied circle, one former Scientologist claims, it can get ugly. In an explosive new interview, actress and former Scientologist Carmen Llywelyn tells RadarOnline.com about what she says is a secret culture of backbiting and one-upmanship among celebrity Scientologists — and how it turned against her when she left the church.
Article continues below advertisement
Despite the fact that confessions of church members, including celebrities, are intended to be top-secret, Llywelyn says that the darkest secrets of some members could turn into gossip fodder.
"I would hear the random stuff about so and so is a drug addict, so and so needs help," she claimed.
"There's a whole culture that's set up … a holier than thou sort of thing," she continued. "…They can become really robotic. It's really sick."
Confessing that she was guilty of the behavior herself, the Chasing Amy star said, "When you're on the bridge so to speak and you're doing what you're supposed to … you'll become really critical of another person if they're not. And you sort of feel in a way self-righteous enough to criticize."
Llewellyn didn't truly experience the brunt of that kind of behavior, she says, until she left the church and allegedly had a nasty, "heartbreaking" run-in with former friend Jenna Elfman.
Article continues below advertisement
The Scientologist Dharma & Greg star "is a little wild one," Llywelyn claimed. "Of all people, she is the last person I expected this from."
During a chance meeting at Fred Segal in L.A., Llywelyn claims Elfman bombarded her with Scientology speak before launching into criticism.
"She just cut me off and just sputtered something else about Scientology about how I'm gonna leave now," Llywelyn alleged. "She said something about how you should et back on the bridge. She basically judged me to my face."
In all, she said, "It was one of the ugliest and nastiest things I've ever seen a human being do and to this day I just can't stand her."
A rep for Elfman did not respond to Radar's request for comment. A rep for the church tells Radar, "This is the latest in a long list of pathetic and bizarre claims in which Ms. Llywelyn seeks to avoid taking personal responsibility for her actions by blaming the Church and others. Any claim that she has been harassed by the Church is false, paranoid and delusional. Furthermore, Ms. Llywelyn has no knowledge of the Church today, having been expelled from the Church twelve years ago.The Church does not condone violence, believes in tolerance, does not interfere in the personal affairs of its parishioners and has a record that speaks for itself in helping countless people lead addiction-free lives.
Watch the video clip for more celebrity Scientology secrets: