Kourtney Kardashian Blasts Scott Disick As 'Schizophrenic' –– Just Days Before She Gives Birth To Their Third Child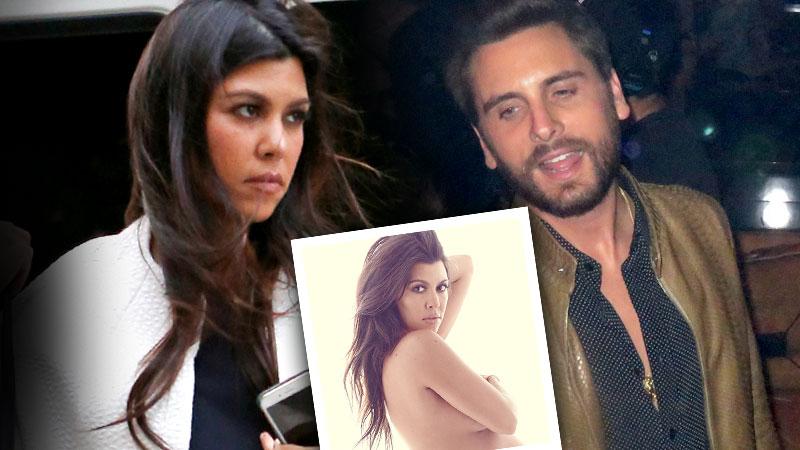 The last days of Kourtney Kardashian's third pregnancy were full of heartbreak for the reality star thanks to drunk and disorderly baby daddy Scott Disick.
That's what viewers learned from Sunday night's episode of Keeping Up with the Kardashians, as Disick went wild at Kris Jenner's Las Vegas birthday party.
And eight-and-a-half month pregnant Kourtney moaned to mom Kris and sister Khloe about what it was like to live with the "literally schizophrenic" party boy.
Article continues below advertisement
First, Disick had convinced Kris to make a personal appearance for her 59th birthday at 1OAK in Vegas, promising to be by her side.
Kris warned him to lay off the alcohol and reminded him he'd soon be the father of a third child. (Kourtney and Scott's son, named Reign, was born on Dec. 14)
But an obviously tipsy Disick made Kris uncomfortable when he showed up at her pre-club dinner.
"Do a little strip tease, it'll be all right," he told Kris and then started joking with Khloe's on-again, off-again boyfriend French Montana on his cell phone.
Watch the video on RadarOnline.com
Kris noted that Disick was "full-on drunk" and they weren't even at the club yet!
Corey Gamble, the momager's young boyfriend, commented, "He's been drinking that 89 unleaded gasoline."
Khloe, who wasn't there, told the cameras, "Scott calls me and he is drunk. I don't want to tell Kourt. She's eight-and-a-half months pregnant, she's stressed out."
Khloe wondered why Disick was still acting out after his earlier Hamptons partying, which had resulted in his rehab stay.
Article continues below advertisement
Back at the dinner, Gamble told Disick, "Scott, you gotta simmer down."
Later, at 1OAK, Kris made her appearance while The Lord wound up chugalugging booze and spraying the crowd with champagne.
"You owe me a f*cking bag," family friend Malika Haqq told Disick after her purse was drenched.
"F*cking a**hole, Kris said. "What the f*ck are you doing? You f*cking hit me in the head," she said after Disick accidentally struck her.
Disick apologized -- and Kris was okay.
But she was deeply concerned about Disick's behavior and what happened in Vegas didn't stay in Vegas, as Kris told Khloe and Kourtney what went down after she got home.
Kourtney said she'd heard him come home and said of his drinking, "It's obvious. It's not even a question."
Kris was unhappy it had happened on her watch, but Kourtney said it was nobody's fault and "the frustrating part is he goes from one extreme to the next.
Article continues below advertisement
"He's not trying. He's a d*ck. He's rude."
The mother-of-two with one on the way went on, "Sometimes he's like, 'Oh, my God. You're the best thing that's ever happened to my life. What would I do without you?
"I want to change. I want to be there for you guys' and then the next day, he'll be like, 'You're showing me baby clothes? Why would I care about that?' He's literally schizophrenic."
Also on the episode, Kourtney showed off her pregnancy with a nude shoot for photographer Brian Bowen Smith.
Disick, who had shaved her pubic hair for the pictures, raved about her pregnancy glow.
Viewers saw Khloe commenting that stepdad Bruce Jenner's hair was looking long, thick and lustrous, in a new tease before the former Olympian's big Diane Sawyer interview airs this Friday about his transition from male to female.
In addition, Kim was shown investigating a rash of thefts at the Kardashians' DASH store in New York.
She hired security experts to film the store as they went in and stole stuff—and her employees didn't notice.
Kim told the saleswomen she was disappointed, and they promised to do better.