Keeping Up With The Grooming! Scott Disick Wants To Shave Kourtney Kardashian's Privates In Sexy 'KUTWK' Preview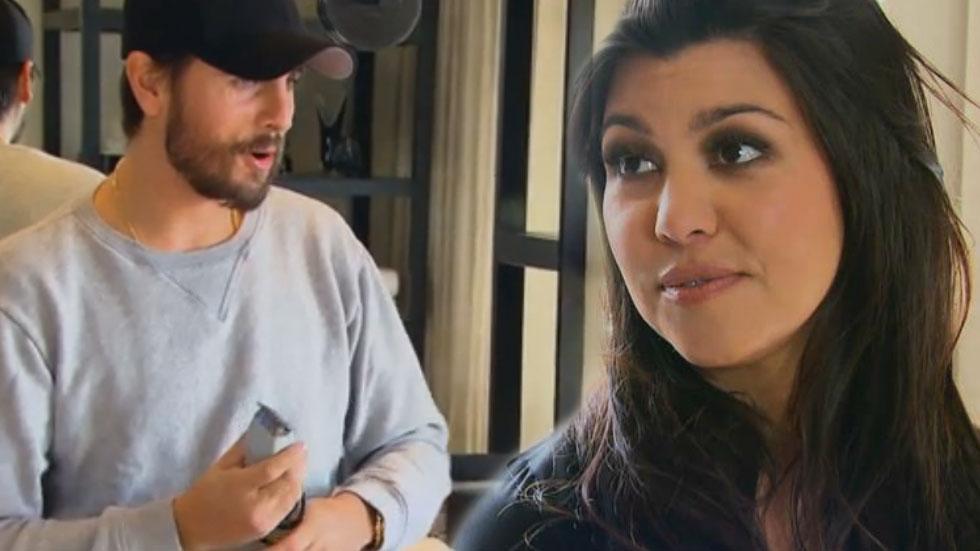 Scott Disick offers his barbershop services to baby mama Kourtney Kardashian in a sexy new Keeping Up with the Kardashians preview clip.
In the clip, the eldest Kardashian sister -- who was in the last stage of her pregnancy with their third child, son Reign Aston, at the time -- is whining about having to do a nude photo shoot, with limited physical ability to access her body below the belly.
"It's lucky enough that I can shave my legs -- there's a huge stomach here in the way, so you're asking a lot to shave down there," Kourtney, 35, said, adding that she was "down" to do it -- but in "need of some assistance."
Article continues below advertisement
At that point, the newly-rehabbed Scott valiantly offered his services, noting his past experience with scissors and trimmers.
"When I was 11, I worked in a barbershop for three days," the charismatic 31-year-old male socialite revealed. "I could trim you up real nice, but it's going to run you about $13.50, though."
In an off-camera confessional, the Lord of reality TV said his baby mama's grooming was reminiscent of the (much-hairier) 1980's, "and I'm not gonna stand for that!"
"So if I've gotta get my hands dirty, I will."
Watch the video on RadarOnline.com (WARNING: Content Contains Adult Humor)
True to his word, Disick got a pair of clippers and told Kourtney, "You're in the right place, little girl ... honey, I'm going to part you like the Red Sea."
For more of their sexy shenanigans, check out Keeping Up With the Kardashians on E! Sunday at 9/8c.