'The Bed Bangs Against The Wall!': Kim Kardashian Complains About Mom Kris Jenner's Loud Flings With Boy Toy Corey Gamble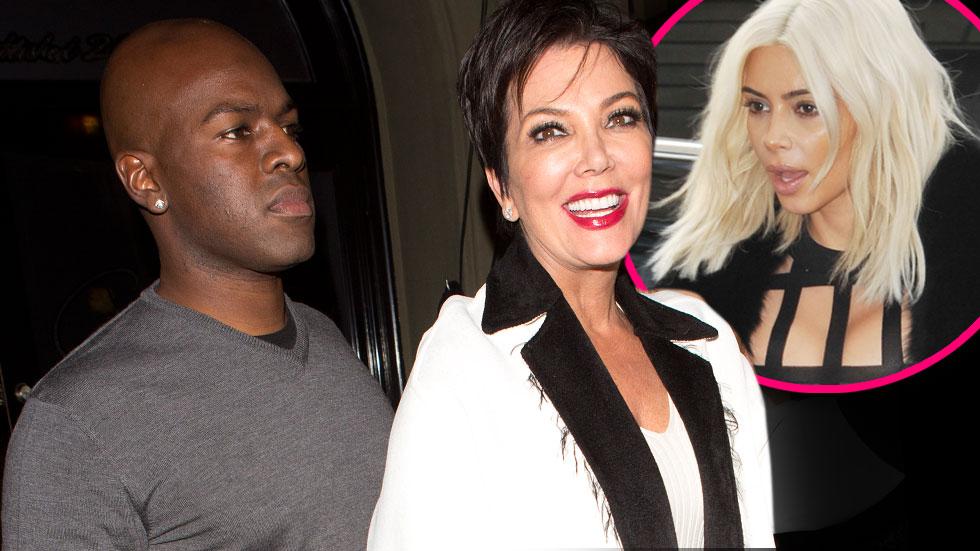 Kris Jenner's racy romance with Corey Gamble, after splitting from longtime husband Bruce Jenner, was the focal point of Sunday's Keeping Up with the Kardashians.
The fiery fling was brought front-and-center after Kim Kardashian complained that the loud lovemaking between Kris, 59, and Gamble, 34, was keeping her up at night.
As RadarOnline.com recently reported, sources said Kris has already dumped her boy toy. But the show went back in time to show how Kris hooked up with Gamble (who works with Justin Bieber's manager), even though her kids gave her a hard time about it.
Article continues below advertisement
First, Scott Disick and Kylie Jenner discussed finding a man for Kris, who Kylie noted is "definitely a cougar."
They found out Kris was "sexting" Gamble -- and borrowed her phone so they could see the flirty messages.
When Kim got wind of the relationship, she sighed, "He's younger than me."
Meanwhile, Kris told Khloe she'd gone on dinner dates with Gamble and found him to "super cool" and "super chill," as they were "just hanging out right now."
Kris said in confessional it was hard to date because "my kids are all really protective."
She told Khloe, "I don't think I'll ever get married again," to which Khloe bluntly advised her mother to "f*ck whoever you want," but NOT walk down the aisle again.
Later, Kim -- who has lived with her mom while her dream home with husband Kanye West is under construction -- discussed with Scott and Khloe how active the "Momager's" sex life really was.
Article continues below advertisement
Watch the video on RadarOnline.com
"It wakes me up," Kim said. "'Boom, Boom,' the bed like bangs up against the wall. I was literally trying to pass out and I like, woke up, and I swear I thought I heard moaning and I was like, 'Please go to bed,' and I put the covers over my head."
Kim said she wanted her mother to have fun again -- but not to rush into anything.
Disick pointed out Gamble was his age and Khloe said, "It's creepy."
At the end of the episode, Kris said she was taking Gamble as her date to Lance Bass's wedding.
Kris said Gamble wasn't officially her boyfriend, but Khloe accused her of having a hickey.
"I just want to be happy and have people leave me alone," Kris said. Feeling bad, Khloe said, "We just want you to be happy and have fun," a sentiment Kim echoed.
After that, Kris partied with Gamble for her 59th birthday at Tao in Las Vegas.
MORE ON:
Keeping Up With the Kardashians
Article continues below advertisement
Gamble gave the cougar a kiss on the cheek and whispered to Kris as they hit the dance floor, "I'm a lucky mother f*cker."
Also on the episode, as RadarOnline.com has previously reported, Kourtney refused to have her likeness used in Kim's video game.
Kim said Kourtney owed her the favor because she had "bought her a f*cking career!"
But ultimately, the sisters made up and Kim agreed to pay Kourtney for being in the game.
Also, Disick, who recently embarked on another stint in rehab, was faced with temptation as he and Khloe made a Halloween party personal appearance in Canada that Brody Jenner served as DJ at.
In a funny moment, Disick showed up dressed in costume as a Saudi Prince and after Khloe posted photos online, many thought she was being disrespectful to the Arab community (she later apologized).
Brody, dressed as Elvis Presley, asked dinner revelers, "Are we getting drunk?" but Disick declined liquor shots and just raised a glass of water.
Article continues below advertisement
"It's never easy watching other people having a huge party night," Disick told the cameras.
Later, all hell broke loose at a fan event when a man charged at Khloe and said he loved her; security had to intervene.
"Some guy tried to tackle me -- the crowd is definitely getting a little rowdy," Khloe said.
Disick told her, "I'd like to call it a night for the first time in my life, and get to bed and get home."
But Disick later admitted to Khloe he'd had half a glass of wine.
"Doing events and parties is one of my jobs. I don't want to mess that up," he said. "I just don't want to not be able to drink at all, because all I think about is drinking."