Exclusive
Drug Bust 'Besties'? Bobbi Kristina Brown's BFF In Prison For Selling Heroin -- Read The Search Warrant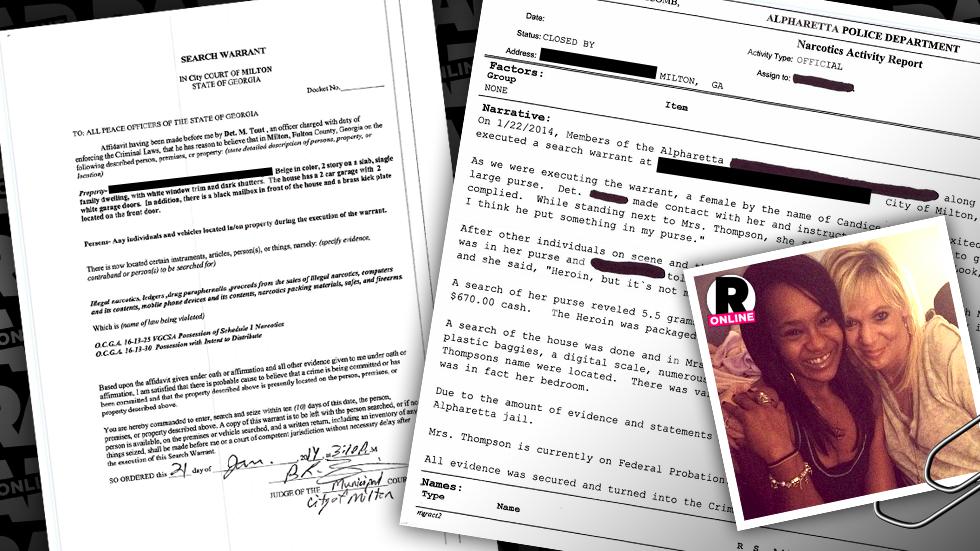 Bobbi Kristina Brown and Nick Gordon's web of shady party pals is widening: RadarOnline.com can exclusively reveal that the couple's 43-year-old friend is currently serving prison time after a Georgia police raid uncovered copious amounts of the deadly drug heroin.
Paige Thompson, who liked to post numerous photos of the best friends online, was arrested in January 2014 -- about one month before Brown's other BFF was killed after overdosing on the hardcore narcotic.
Article continues below advertisement
"Bobbi Kristina and Nick were here a lot," said Thompson's mother Ophelia Ward, who spoke to RadarOnline.com exclusively.
"She was so loving," continued Ward, adding that Thompson (real name Candice) met Bobbi Kristina and Gordon through Thompson's daughter Alex. "Nobody has ever been more respectful to me than the two of them. Nick would tell me if I ever needed him for anything to call him. This is just breaking my heart because she was such a sweet child and every time I saw her smiling face."
But those fond memories have been tainted by visions of the drug bust under her very own roof – the same place Ward reveals Bobbi Kristina and Gordon would ofte hang out with their drug-dealing friend.
According to a search warrant obtained by RadarOnline.com, the North Fulton County SWAT Team was on the lookout for Thompson, and after staking out her mom's house they busted her as she surrendered on the ground getting out of her car.
Article continues below advertisement
"Look, I need to tell you something," she told officers. "I think he put something in my purse," as police confiscated her bag in which she admitted there was "heroin, but it's not mine."
When police searched her purse they found "5.5 grams of heroin, 19 Suboxone strips, a digital scale, several small baggies, and $670 in cash."
And that's not all.
Inside her bedroom, officers confiscated ".5 grams of heroin, several small plastic baggies, a digital scale, numerous bent spoons with white residue, and numerous pill bottles" containing her name.
Her mom has an equally dramatic account of what happened.
"The night Paige was picked up I had gone to the dentist and came home and I was changing clothes and was naked and was putting on my pajamas. And all of sudden I hear a boom and the SWAT team is at my door," Ward remembered. "There's this man in a suit with an assault rife standing at my bedroom door. They brought the dogs. It was the most horrendous night of my life."
Article continues below advertisement
"They didn't find anything in the house," she insisted, despite the police report. "They found it on Paige."
Police were also ordered to seize any drugs, ledgers, drug paraphernalia, proceeds from the sales of the illegal narcotics, computers, cell phones, drug packing materials, safes, and firearms, according to the search warrant.
With the help of Alpharetta police and the U.S. Marshals, Bobbi Kristina's supposed "bestie" (as she described her on social media) was charged with possession of heroin with intent to distribute and possession of a schedule III, IV or V controlled substance with intent to distribute, according to court records, to which she pleaded guilty. She was already on federal probation at the time of her arrest.
RadarOnline.com also uncovered information about her criminal record that goes even further back.
Thompson, who considered Whitney Houston's only daughter her "family" per her Instagram posts, was previously arrested for criminal trespassing and simple battery in 2011. In 2010, she was sentenced to three years in prison for credit card fraud and aggravated identity theft after defrauding good Samaritans out of thousands of dollars stemming from false claims she made about being homeless due to Hurricane Katrina.
Article continues below advertisement
RadarOnline.com was first to report that Bobbi Kristina was getting deeper into the Atlanta drug scene, and that it got so bad she was spending $5,000 a week on heroin and crack, according to The National ENQUIRER.
But Ward said she "wasn't aware" of any drug use.
"I never saw any one high that I know of," she said. "They'd come in and come to speak with me. But Paige was on drugs and Paige was selling drugs. That's why she's back in jail. What they did though, I don't know. I didn't know my daughter was doing as much heroin as she was. It really broke my heart when I found out what my daughter was capable of."
In what could be a telling Twitter message posted just eight days before Paige's arrest, Bobbi Kristina wrote that she was hanging out with Thompson, Gordon, their best friend Mason Whitaker, and Chelsea Bennett. As RadarOnline.com was first to report, Bennett died just five weeks later of a heroin overdose. And Whitaker plead guilty to multiple drug charges.
"At paigey waigey's house !with everyone ! Lol my husband , Paige of course , two cool doods,@bennett_chles , & @mwhitaker10 BAM!" wrote Bobbi Kristina on January 15, 2014.
Article continues below advertisement
Ward says her daughter knows about Bobbi Kristina's current critical condition at Emory University Hospital even from her isolated prison cell.
"Even though she's in prison, Paige is upset about it," she said. "She's very, very upset. She cried. Paige looked at her like a daughter."
And Ward, who Bobbi Kristina often called "granny", shares positive sentiments of a happy young girl.
"She wasn't depressed when she came over here. I see her smiling face. I looked at her like a mother would look at a child," she said, adding that the 21-year-old had dreams to replicate her superstar mother's famed career.
"She did talk about her. She worshipped Whitney," she revealed. "She was going to Los Angeles and going to try to start her own career and she was excited about that.
"It's tearing me apart because you have to have known her, there may have been some dark sides, but I saw some good sides," added Ward. "It's heart-wrenching. I feel so sorry for the Houston family, the grandmother. She Bobbi told me so many good things about the Houston side of the family."