Bobbi Kristina Was Spending Up To $5,000 Per Week On Drugs, Claims Friend— 'We'd Use Heroin Together'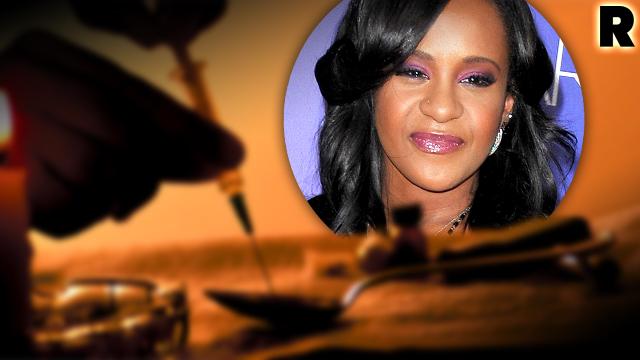 Heroin and crack were killing Whitney Houston's troubled daughter before she was found unconscious in a bathtub, The National ENQUIRER reported in a bombshell world exclusive.
A man who admitted to using those deadly drugs with Bobbi Kristina Brown spoke out as the 21 year old was still clinging to life at Atlanta's Emory University Hospital, surrounded by family and friends including her devastated father, Bobby Brown.
Article continues below advertisement
"Whether heroin or crack — or other drugs — played a role in what happened to her will be determined. But I know how bad off she was in the months before this happened," said the man, whose name was withheld by The ENQUIRER.
The snitch had gone to school with Brown and remained close to her. He claims her drug use escalated in the aftermath of Whitney's death in 2012.
"She told me her mother's death 'gutted her.' Those were her exact words," the man said.
Brown reportedly began abusing drugs at age 17. She created a scandal when shocking photos emerged allegedly showing her snorting cocaine and taking hits of marijuana from a bong.
But her lethal turn to heroin and especially to crack — the addictive street drug that turned Houston into a junkie — has never been disclosed until now.
At the time of the tragedy, Brown was spending upwards of $5,000 a week on drugs, according to the snitch.
Article continues below advertisement
He said he came forward to help piece together the events that led up to Brown being found unresponsive in a water-filled bathtub at the Roswell, Ga., home she shared with her 28-year-old partner Nick Gordon.
One clue that could help authorities investigating the incident would be to locate "the secret vault-like chamber" hidden in her home, he said.
"That's where Krissi keeps her drug stash and cash, and also where Nick keeps his guns," the man claimed.
MORE ON:
Bobbi Kristina Brown
He said other answers could come from two local drug dealers who supplied Bobbi Kristina. "These two are known as 'Steve-O' and 'G,'" he said. "They would either come to her place or she'd meet them in her car at a designated location."
A lawyer for her father told The ENQUIRER it was categorically false that Bobbi Kristina had used either heroin or crack.
But The ENQUIRER source confirmed that he had used drugs multiple times with Bobbi Kristina.
Article continues below advertisement
He said: "Before Whitney died, Krissi was hooked on coke and marijuana, and also had a problem with Xanax." According to the source, Bobbi Kristina's descent into harder drugs unfolded in the months after her mother passed.
In an eerie foretelling of Bobbi Kristina's tragedy, Whitney was found dead in a water-filled bathtub at a Beverly Hills hotel on Feb. 11, 2012. Cocaine and other drugs were found in her body.
After that, Bobbi Kristina first turned to Roxicodone, a synthetic drug chemically similar to heroin known as "Roxys," said the man. "She really liked the feeling she got from Roxys. She snorted them, and she'd ask me, 'Can you get them for me?'"
"Not long after that she traded up to 'full-blown' heroin," he claimed. "We'd use heroin together at friends' apartments, at parties."
For more on this story, pick up the latest issue of The National ENQUIRER, on newsstands now.