Exclusive
Thanks Bruce! Kris Jenner Officially Gets Hidden Hills Mansion In Divorce – Read The Ownership Docs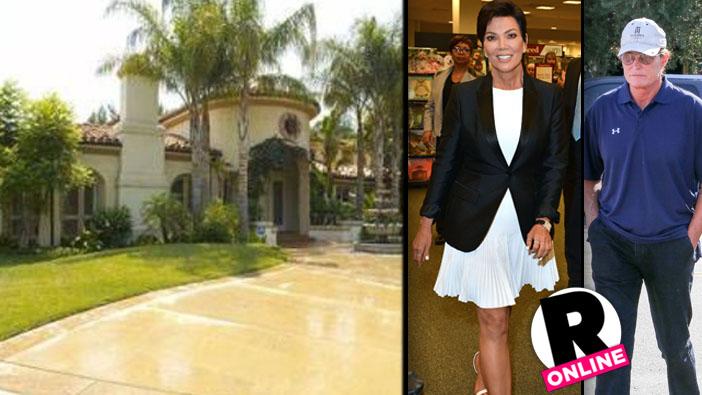 Article continues below advertisement
According to the court documents obtained by RadarOnline.com, Bruce promised to "promptly" transfer his claim on the house to his ex.
The Jenners bought the fancy pad, which has made numerous appearances on the hit show, in 2010 for a whopping $4 million. Fit for the family's expanding brood, the six-bedroom, 7.5-bath Mediterranean digs open to sweeping double staircases, limestone floors, and hand-painted ceilings, and feature a wet-bar, spa, steam room, gym and pool.
In addition to the manse, Kris wants "all monies in checking, savings, money market and investment accounts" that are under her name transferred to her in the divorce too.
She also wants her 2012 Rolls Royce Ghost, 2014 Bentley CV, 2014 Land Rover Range Rover, and claim to "all partnerships and business interests" in her name, and "any and all intellectual property created by" her, including "movies, television series, stories, scripts," and more. Kris is the creator and executive producer, along with Ryan Seacrest, of Keeping Up with the Kardashians and its spin-offs.
Article continues below advertisement
And that's not all for the shrewd businesswoman, whose infamous family just signed another $40 million deal to keep the Kardashians on the small screen.
She's also going after "any and all" credit card points, airline rewards miles under her name, as well as "furniture, furnishings, artwork, appliances, and wedding gifts," plus all of her "clothing, cash, personal effects," jewelry, watches, and all income that she earned after their separation date, June 1, 2013.
That's not to say Bruce doesn't get his fair share of the reality profit pie.
Kris is forking over $2.5 million in tax free cash to her estranged hubby to walk away. Of that, $1.5 million will be paid when the stipulated judgment is executed. She'll owe him another payment of $500,000 by December 31, and another $500,000 by June 30, 2015.
Kris has also offered him 50 percent of their joint checking, savings, and money market and investment accounts. He also will get the 2011 Porsche 997 coupe, 2013 Cadillac Escalade, 2007 Harley Davidson motorcycle.
Like Kris, he wants rights to all his credit card points and miles, as well as rights to any business interests and intellectual property he created.
Bruce also stands to gain at least $1.5 million in the event of Kris' death, according to a life insurance proviso in the documents.
Neither will get spousal support or child support, and they plan to split expenses for and custody of daughter Kylie, 17, and Kendall, 19, is an adult.