Enough! Khloe Kardashian Cuts Off Credit Cards So Lamar Odom Can't Buy Drugs... But He's Reportedly Pawning Jewelry To Feed Habit!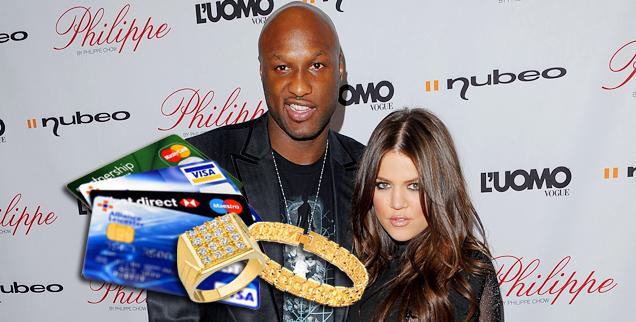 Khloe Kardashian is fighting for Lamar Odom's life as he is accused of cheating with multiple women and doing drugs and so is taking drastic measures to try and stop his destructive behavior by cutting off their joint credit cards as reports surface of him pawning jewelry to pay for his drugs.
Although both of them are worth millions from their reality show, product endorsements and his formerly lucrative basketball career, Khloe is doing everything she can to stop her husband from spiraling out of control.
Article continues below advertisement
"Khloe put a hold on all their credit cards so he couldn't get cash," a pal told Us Weekly.
As RadarOnline.com previously reported, Lamar was blowing through $800 a day on his pricey drug habit and now Khloe is trying to stop the financial hemorrhaging to keep him from destroying his life.
Lamar is apparently is resorting to drastic measures to feed his drug habit.
"He pawned expensive jewelry for drugs," the magazine reported.
MORE ON:
Keeping Up With the Kardashians
While the Kardashian's usually air all of their dirty laundry on their reality show, Khloe is taking steps back lately and took a week off filming, against her mother Kris Jenner's wishes.
She hasn't filmed anything about Lamar's troubles, but the plan is to have it on the show.
The rest of the family "already filmed their reactions to the Lamar drama," but not his distraught wife and she's an executive producer on the show so she can pull the plug on the topic if she chooses.
However, a source tells the magazine it's just a matter of time before the marriage is over.
"They will get divorced. There is no way to patch this up."