Exclusive
Kris & Bruce Jenner Settle Their Split In New Court Documents — READ How They Split Up Their Empire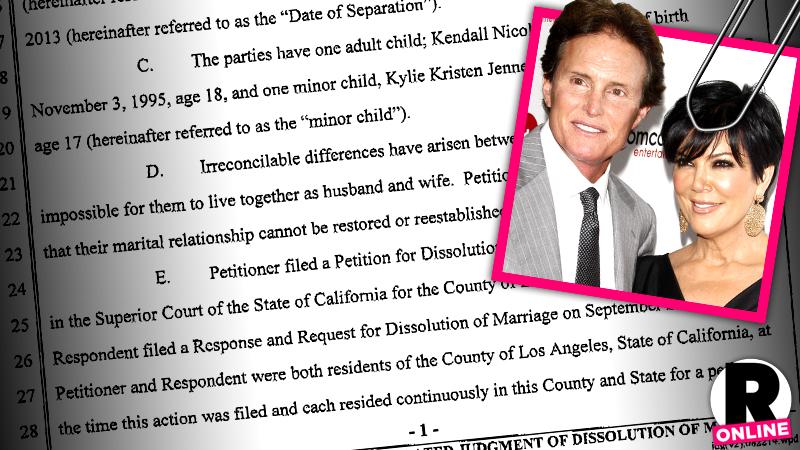 That was fast! Just one day after Kris Jenner filed for divorce, she and estranged husband Bruce have already reached an agreement on how to divide their reality TV empire. The Keeping Up with the Kardashians couple approaches the sticky task of untangling their shared assets in a newly filed stipulated divorce judgment, and only RadarOnline.com has all the details.
Kris and Bruce filed the stipulated judgment "to divide, settle, and adjust their respective interests … in and to property now owned by them … to define present support agreements, and to set forth a mutual waiver of reimbursement claims," the papers state.
Article continues below advertisement
The documents note that the divorce is uncontested by either party. But that doesn't mean it's uncomplicated.
According to the court documents obtained by RadarOnline.com, Kris wants "all monies in checking, savings, money market and investment accounts" that are under her name. As RadarOnline.com has reported, she and Bruce had separate accounts for years.
She also wants her 2012 Rolls Royce Ghost, 2014 Bentley CV, 2014 Land Rover Range Rover, and the couple's Hidden Hills home, as RadarOnline.com exclusively reported earlier today. According to the documents, Bruce will "promptly" transfer his claim on the house to her.
Kris also wants claim to "all partnerships and business interests" in her name, and "any and all intellectual property created by" her, including "movies, television series, stories, scripts," and more. Kris is the creator and Executive Producer, along with Ryan Seacrest, of Keeping Up with the Kardashians and its spin-offs.
She's also going after "any and all" credit card points, airline rewards miles under her name, as well as "furniture, furnishings, artwork, appliances, and wedding gifts," plus all of her "clothing, cash, personal effects," jewelry, watches, and all income that she earned after their separation date, June 1, 2013.
MORE ON:
Celebrity Justice
Article continues below advertisement
Bruce isn't walking away empty handed, however. Kris has offered him 50% of their joint checking, savings, and money market and investment accounts. He also will get the 2011 Porsche 997 coupe, 2013 Cadillac Escalade, 2007 Harley Davidson motorcycle.
Like Kris, he wants rights to all his credit card points and miles, as well as rights to any business interests and intellectual property he created.
Bruce stands to gain at least $1.5 million in the event of Kris' death, according to a life insurance proviso in the documents.
But before then, Kris is paying Bruce $2.5 million to walk away. Of that, $1.5 million will be paid when the stipulated judgment is executed. She'll owe him another payment of $500,000 by December 31, and another $500,000 by June 30, 2015. All of that, per divorce laws, will be tax free. Aside from that, neither of them will get spousal support or child support.
They plan to split expenses for and custody of daughter Kylie, 17. Kendall, 18, is an adult.
The documents note that the duo negotiated the agreement "in good faith," and that both are satisfied with the result.
All that remains is for the judge to sign off on the deal.
Does the split sound fair to you? Let us know in the comments!