The Honeymoon's Over! Angelina Reportedly Hooks Up With Former Lover— And Husband Brad's Furious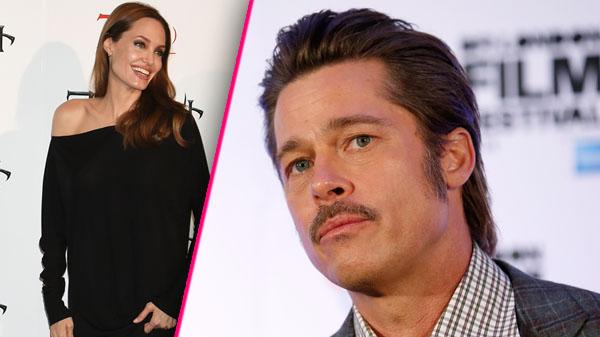 Angelina Jolie and Brad Pitt tied the knot in a fairytale ceremony just two months ago— but she's already got another man on her mind.
According to The National ENQUIRER, the rebel actress turned respected activist, 39, shared a secret reunion with her teen sweetheart, Hollywood costumer Anton Schneider, 41, at a Hollywood coffee shop.
"Anton bumped into Angie at a Starbucks on the Warner Bros. lot," a friend tells The ENQUIRER. "When Angie saw Anton, they hugged and she sat down with him. They chatted for 20 minutes, catching up and talking about each other's family and kids.It was nice for them to hear about each other's lives and get some things off their chests about their pasts."
Article continues below advertisement
Though the meeting was platonic, Pitt, 50, hit the roof when he discovered his new wife had cavorted with a former boyfriend— and had never even told him about their twisted love affair.
"He exploded, asking her repeatedly, 'Why didn't you tell me?'" the source says. "Angie said meekly that Anton was 'just part of her past,' and she didn't think it was important. Well, it was to Brad!"
Bad girl Jolie was just 14 when she began living with Schneider in her late mother's Marcheline Bertrand's Los Angeles home. They reportedly dropped acid together, and experimented with cutting during sex.
When contacted by The ENQUIRER, Schneider, who has worked in the wardrobe department on Mike & Molly and Mad Men, refused to comment on his relationship with Jolie.
"Brad realizes that Anton is a lover from Angelina's dark past but that doesn't make this any easier. Quite the opposite, it makes things worse," explains the source. "Now, hearing that Angie reconnected with her lover Anton— even though no romance was involved— was like adding insult to injury. It's definitely affected their newlywed bliss."