Exclusive
Brad Pitt And Angelina Jolie Rent Out $200,000 Worth of Luxury Villas During Their Working Honeymoon On Malta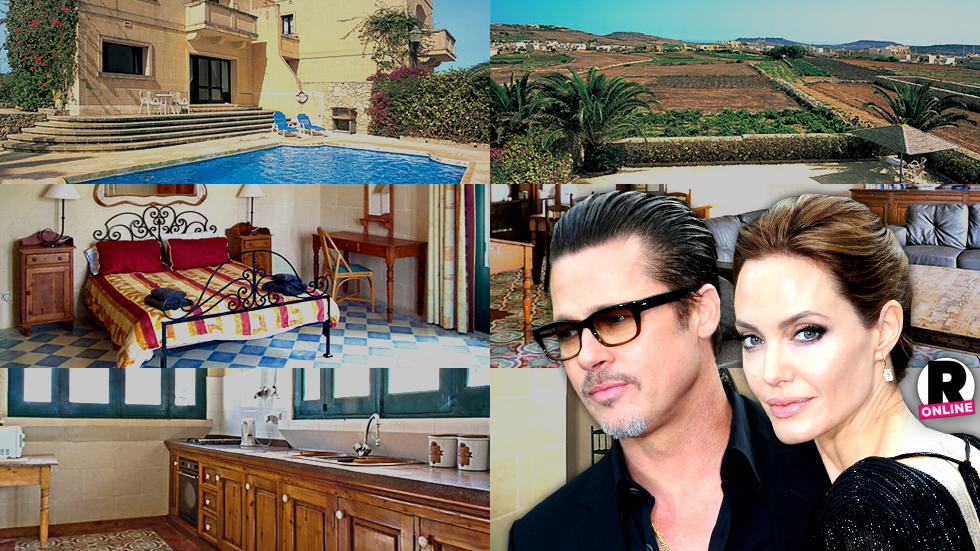 Brad Pitt and Angelina Jolie have successfully pulled off the most hush-hush wedding of the year, and they're already back at work: Pitt was spotted in NYC over the weekend, and Jolie is filming in Malta. Now, RadarOnline.com has the exclusive details on the sexy couple's short but sexy honeymoon hideaway on the Mediterranean island.
According to Gozo Island local Noel Vella, the newly-minted Mr. and Mrs. Pitt have rented out nearly a dozen luxury villas near Mgarr ix-Xini Bay, where they've been building a massive set for their upcoming big screen collaboration, By The Sea.
Article continues below advertisement
"I heard they rented all the villas in the area for everyone," he said of the stunning Ta Cenc locale. "It a very nice area. Each villa was built by Sicilian architects in the 1970s. It's very beautiful.
"It's also quite expensive and unique. It's built in an area where no one can build anything around it. It's about 100 feet from the sea. They're exclusive."
And a steep price tag, it is. During the peak seasons, the three-month shoot for everyone working on the Oceanside set doesn't come cheap – It rings in to the tune of more than $230,000!
But the superstar couple has spared no expense given that besides getting work done, it is their honeymoon holiday.
Vella said of the about 11 villas being rented, one is called Villa Narcis, a gated traditional Gozitan stone house with antique tiled floors in every room, large swimming pool, sun-filled terrace with a barbeque and seating perfect for the Jolie-Pitts' six kids or a romantic meal for two.
Article continues below advertisement
And the accommodations aren't the only things they've splashed out thousands on during their extended honeymoon celebration. Nearly the whole island is on lockdown as the power pair is compensating at least 150 of the residents who work along the picturesque bay who have been forced to close up shop due to filming, Vella said.
"They're compensating everyone," he said, including Vella himself who owns the popular beachside restaurant Rew Rew, which has already shut its door for the next 12 weeks. "Even people who have little boats, they compensated them. Those operating the sun beds, parasols, ice cream stands, boat tours. Even the Hotel Ta Cenc's private bar will be closed for shooting."
That's not all. Because privacy is of the essence, the bay is closed now to the public.
With the movie set nearly complete, Vella said he saw Jolie and Pitt taking a tour last Wednesday.
"Angelina Jolie and Brad Pitt have entered into our lives without even saying hello," said Vella, adding that very few have even met the movie stars since having to temporarily postpone business. "I gave them the key and I have no idea what they'll use it for. I think they'll use it to do something for the movie," he said.
"There are those who are buzzing and people who are not. But it's good for the economy and so many people are making extra money."
Before jet setting off to the seaside paradise, Pitt and Jolie exchanged vows in an intimate ceremony in the chapel of their French estate, Chateau Miraval, last Saturday in front of close family and friends.