Amanda Bynes Tweets She's Bipolar & Manic Depressive, Complains About Conservatorship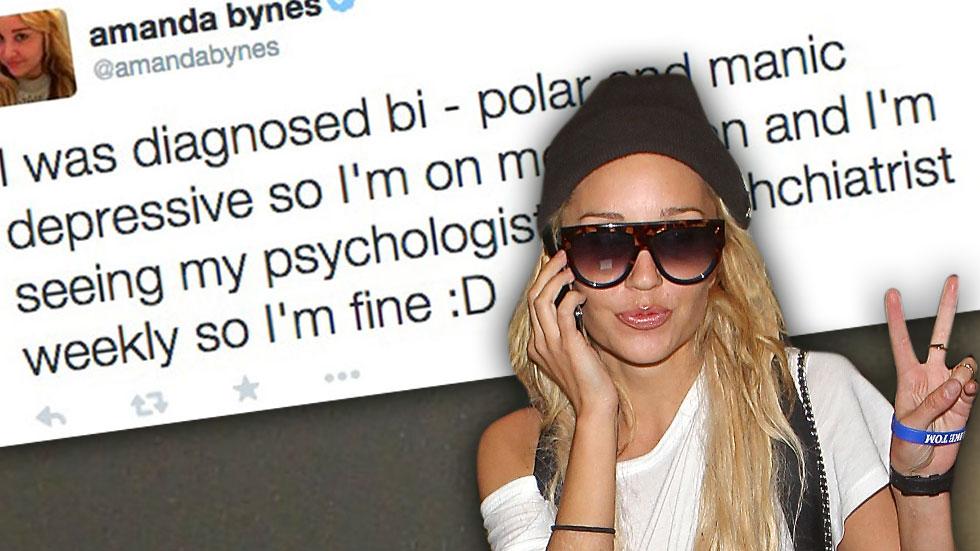 Amanda Bynes took to Twitter late Monday to complain about her ongoing conservatorship dispute with her parents and declare she's "fine" — and currently on medication for bipolar disorder.
"I was diagnosed bipolar and manic depressive so I'm on medication and I'm seeing my psychologist and psychiatrist weekly so I'm fine," the former Nickelodeon star wrote, adding an icon of a happy face.
The What I Like About You star, 28, kicked off her rant grousing about the recent legal decision granting her mother Lynn power over her conservatorship until next year.
Article continues below advertisement
"I need to get an apartment and my parents won't give me access to any of my funds," she said, in the wake of RadarOnline.com's report she's hoping to relocate to New York City in the wake of her latest string of incidents. "I'm not living with my parents … I'm not legally obligated to."
The She's the Man star said she was optimistic after meeting with her lawyer — presumably her court-appointed lawyer, as the conservatorship terms prohibit any outside representation — who told her she will regain control of her finances if she sticks to a program outlined by the court.
"My lawyer said if I comply with the courts and take my meds and see my psychologist and psychiatrist weekly," the Hairspray star wrote, "then I will get unconserved.