'I Am Enraged': Amanda Bynes Tweets Shocking New Accusations After Ditching Psych Facility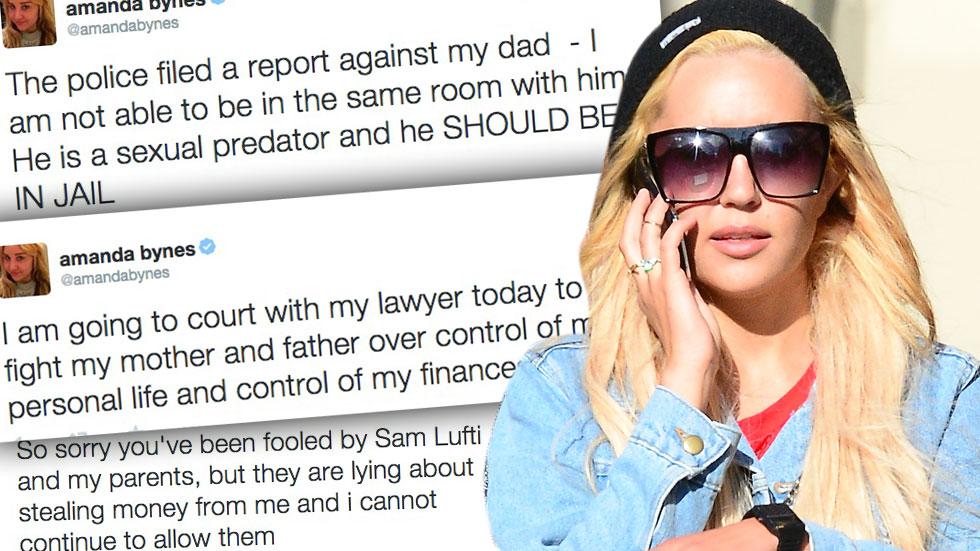 Just hours after Amanda Bynes was sprung from an L.A. psych facility, she started tweeting up a storm — and her new series of allegations aren't pretty.
"I am going to court today with my lawyer to prove that I am more than capable of handling my personal life and finances and I am enraged," sniped the 28 year old. "I got released from the hospital that Sam Lufti and my parents arranged to send me to because my dad is humiliated by what he's done."
Article continues below advertisement
Bynes then claims all over again that her dad, Rick Bynes, abused her. "The police filed a report against my dad," she wrote Friday morning. "I am not able to be in the same room with him. He is a sexual predator and he SHOULD BE IN JAIL."
The troubled starlet then claims her lawyer will "fight my mother and father over control of my personal life and control of my finances."
"People need to hear the truth about who I really am - I need to show the judge that not only do I not need ANY help making decisions about my future, I was planning on transferring to NYU, and I was never homeless, I was living in the nicest hotels until I found the right apt in NY," she continued.
Bynes said she's "sorry" her followers have been fooled by Lufti and her parents. "They are lying about stealing money from me and I cannot continue to allow them," she insisted.
Though she's publicly blasting Lufti, who helped her parents lure her back to Los Angeles so they could force her into Las Encinas Hospital for treatment, a source tells RadarOnline.com exclusively that behind the scenes she's actually begging the creepy svengali for cash.
Article continues below advertisement
"She has no money, and has been blowing up Sam's phone demanding he loan her money so she can buy a plane ticket and get out of Los Angeles asap," reveals the source. "She is desperate because she's afraid that her mom can get her checked back in to the hospital."
In other tweets from the erratic former actress, she swears she "got a 4.0 grade point average at FIDM," despite reports that she asked other students to do her homework for her.
"Also, Love Bugs," added Bynes, "I look horrible right now because I had a procedure done under my eyes to remove micro cysts under my eyes, so I need to wear a bandage to court."
As RadarOnline.com reported, a judge had no choice but to release the troubled starlet from the psychiatric facility Las Encinas Hospital on Thursday after her nearly three-week involuntary hold. Bynes asked for her freedom and the courts determined that she no longer posed a threat.
Just hours after she gained her freedom, Bynes was spotted wearing a black coat, black leggings and dark sunglasses while she roamed the streets of L.A. talking to herself, gorging on food at a diner and looking for a place to stay.
Watch: Jenny McCarthy Responds About Amanda Bynes Tweets